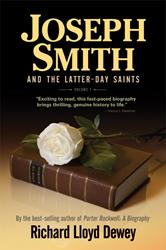 Written from a sympathetic viewpoint, this is the perfect biography to present to anyone, LDS or not, with the pertinent facts about the founder of the Mormon faith.
Provo, Utah (PRWEB) April 30, 2015
Hard copies of Joseph Smith and the Latter-day Saints are available online at Deseret Book, Amazon.com and Seagull Book.
"Joseph Smith's enemies defined the man for the public nearly two centuries ago," states Dewey, "and most authors today still rely on those inaccurate early sources who had an agenda against him. At the top of the list of his enemies were pastors who publicly opposed him, angry that he converted many of their flocks away from them. So they attacked his claims - that he saw heavenly beings and translated an ancient American record of scripture, the Book of Mormon."
The list grew to include politicians fighting him. Seeing him grow in power with thousands of converts, they feared his growing movement, and plotted to kill him.
This dramatic conflict makes for "a robust biography," describes Midwest Book Review, "allowing the reader to come to know Joseph on an unparalleled personal level." 
According to Vance L. Hawkins, historical research consultant, "Dewey breathes life into Joseph and his friends and takes you on a journey through time. This is a breakthrough biography that should have been written decades ago."
Non-stop drama pervades the book, along with its thoroughness: Small Press Bookwatch describes it as "an impressive work of detailed and meticulously researched scholarship - a seminal work, superbly written."
"It's the most comprehensive biography yet written on Joseph Smith," adds Hawkins. "But it's also approachable and friendly to the average reader."
In the book Dewey shows Smith's weaknesses and strengths to present the complete picture of the man. He puts to rest the numerous myths and misconceptions inherited from generations ago. 
Richard Lloyd Dewey, an independent historian and free-lance writer, grew up in the South and lives in the West, where he continues his research. His books include the best-selling Porter Rockwell: A Biography (colorful western gunslinger and U.S. Marshal) and Hubener vs. Hitler: A Biography of Helmuth Hubener (teenage Resistance leader in Nazi Germany). He has written the forward to four historical biographies by other authors.