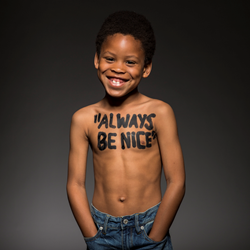 All of this was clear evidence to me that moms everywhere are succeeding. It may not seem like anyone's listening—but they are!
(PRWEB) April 28, 2015
Ask any mom with an active son and they will likely express that sometimes, they're not sure anyone's listening. Like other moms, South Orange, NJ based photographer Yasmeen Anderson spends plenty of time doling out life advice to her children, wondering if it sticks—or if it's even heard at all. But she can report Good News! Not only do a mother's words reach young boys, they stick with them as they grow up.
Through an emotive photo series entitled "A Mother's Impact," shot in anticipation of Mother's Day 2015 and currently viewable at http://www.amothersimpact.com, Anderson explored how a mother's words and actions have impacted their sons. As young children, what do they hear? And as grown men, what do they remember? And how does it shape what matters to them? Shooting and interviewing 16 boys and men over a 9-day period, Anderson got some incredible answers.
Thanks to his Mom, one 8-year-old boy said he remembers to "Keep Smiling" since it is a way to be healthier, helps you stay positive and is contagious. A subject in his 20's spoke to his quiet aspirations to be a "Simple Kind of Man," following his mother's sage guidance. A 30-year-old man remembered getting out of chores by bribing his mother not with money, but simple pleasures like popcorn and foot-rubs. Memories of special moments together last a lifetime and shape his priorities of spending time with loved ones now as his acting career takes off in TV shows and movies like the Terminator Genisys.
Former Giant and current Canadian Football League player David Caldwell's mother always told him to "Be the best you" which has been the foundation of his hard work reaching the NFL despite numerous obstacles. Even more importantly, it's the basis for his foundation and lifestyle movement OHGI, which encourages people to dream big and have the drive to turn that dream into a reality.
"I was amazed at how easily they came up with the quotes, even the youngest boys," said Yasmeen. "Some of the grown men photographed became visibly emotional when talking about their moms and the impact their words had on them."
"All of this was clear evidence to me that moms everywhere are succeeding," added Yasmeen. "It may not seem like anyone's listening—but they are!"
A Mother's Impact is comprised of 16 photographs of 8 adult men and 8 young boys, aged 6-10. Photographed over a period of 9 days, the boys are residents of South Orange, Maplewood and neighboring towns.
ABOUT YASMEEN ANDERSON PHOTOGRAPHY
Yasmeen Anderson began her professional photography career in 2010 following a 15-year marketing career and since then has photographed athletes, portraits, commercial projects, corporate and private events. Her work focuses on eliciting an emotional response and raising the heart rates of those who view her work. For more information, the public can visit http://www.yasmeenphoto.com or contact Yasmeen directly yasmeen(at)yasmeeenphoto(dot)com or 917.575.2984.
##