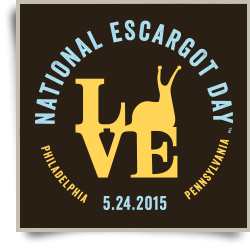 Larkspur, CO (PRWEB) April 28, 2015
The sustainably conducted month-long search for the true Wild Burgundy Snail, across vast tracts of European wilderness, culminates in a feast recognizing National Escargot Day® on May 24, 2015. A tribute to the world's most versatile protein, National Escargot Day menus celebrate the most sought after escargots in the world, and showcase the Helix Pomatia Linne in all its glory. Philadelphia, PA, is this year's host city, and diners will experience multi-course tasting menus and à la carte options of this "Kobe beef of snails" beginning May 18.
The finest of the 116 edible varieties of helix snail and the only variety that can be truly called "Burgundy Snail", the Helix Pomatia Linne is also nutritionally unbeatable, 100% organic and 100% natural.
Highlights of National Escargot Day® and the Helix Pomatia Linne can also been seen in Bon Appetit (March, 2005), Saveur (October, 2005), Sante (May, 2006), the Wall Street Journal (January, 2007), Philadelphia Inquirer (May, 2007), Philadelphia Magazine (August, 2009), and Tasting Table (March 11, 2014). Also featured in books such as: Daniel Boulud's My French Cuisine, Thomas Keller's The Bouchon Cookbook; Marc Vetri's Il Viaggio de Vetri Cookbook; Vitaly Paley'sThe Paley's Place Cookbook.
For more information about National Escargot Day, visit http://www.nationalescargotday.com and follow on Twitter @thesnailman #NationalEscargotDay #NED15.