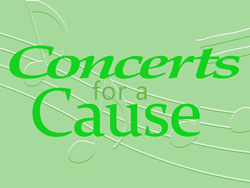 The concert will be held at the Kirk of Kildaire located at 200 High Meadow Dr. in Cary, NC 27511 on Sunday May 3, 2015 at 4:00 p.m.
Wake Forest, NC (PRWEB) April 28, 2015
Three North Carolina musical ensembles including the Cary Town Band, the Triangle Community Orchestra, and the Kirk Chancel Choir will present a concert entitled "Handel to Roger & Hammerstein", part of the Concerts for a Cause series, for the benefit of WCPE FM The Classical Station. The concert will be held at the Kirk of Kildaire located at 200 High Meadow Dr. in Cary, NC 27511 on Sunday May 3, 2015 at 4:00 p.m. This event is free and open to the public. All proceeds collected at the concert will be donated to WCPE FM. The monies raised at the concert will be evenly shared between the station's operating expenses and the WCPE Education Fund.
"The musicians of Triangle Community Orchestra look forward to their collaboration with Kirk of Kildaire and Cary Town Band musicians, as we prepare another 'Concert for a Cause,'" said Marta Findlay-Partridge, conductor of the Triangle Community Orchestra. "WCPE has long been a source of inspiration to us as we have traveled the amazing journey from aspiring musician to active performer." Ms. Partridge will be joined by conductor Stuart Holoman of the Cary Town Band and Larry Abernathy, director of the Kirk Chancel Choir. Featured selections include a tribute to "The Sound of Music", Mozart's Requiem, and more.
WCPE FM the Classical Station is the only non-profit, listener supported classical music radio station in Central North Carolina and has been broadcasting since 1978. The WCPE Education Fund, which was founded in 2012 by Tara Lynn, host of As You Like it which airs weekdays from 1:00 – 4:00 p.m., and provides grants to non-profit organizations in North Carolina for musical education programs. Since its inception, the WCPE Education fund has granted approximately $30,000 to a variety of musical education programs and will award $8,000 in grants this summer.
About WCPE
WCPE is a non-commercial, independent, listener-supported station dedicated to excellence in classical music broadcasting. Located in central North Carolina between Wake Forest and Rolesville , WCPE serves the Piedmont area, including Raleigh, Durham, and Chapel Hill, with 100,000 watts of power on 89.7 FM. We are heard in the North Carolina Sandhills, coastal areas, and parts of southern Virginia on eleven remote FM transmitters. We serve the rest of the world on the internet, cable systems, affiliate radio stations, and digital satellite. For listeners seeking accessible Great Classical Music, our selection and presentation make us the radio station of choice, 24 hours per day, every day.