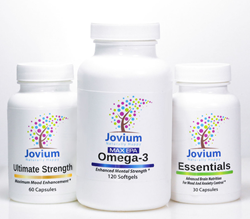 These products provide a completely natural alternative for people who are seeking relief from their symptoms. Now, we have turned our focus on increasing our marketing scope and helping more people across the nation to get the assistance they need."
Boca Raton, FL (PRWEB) April 28, 2015
Jovium®, a brand focused on developing natural products that help users to achieve a better emotional balance, has begun to increase its market presence to help people in need on an international scale to enhance their mood and relieve some of the symptoms feelings of anxiety and depression.
The Jovium® System aims to help patients overcome some of their more troubling symptoms difficulties of mental health conditions through all-natural products that do not cause or carry with them come with some of the difficult side effects of standard psychiatric medications. These products have are heavily backed by science and were developed by a leading clinical psychiatrist and professor of psychiatry at an Ivy League medical school.
"In my line of work, I have come across many patients who would, quite understandably, prefer to avoid psychiatric drugs altogether," said Dr. Alfredo Nudman, President of the Advanced Nutraceutical Research Corporation and developer of Jovium®. "These products provide a completely natural alternative for people who are seeking relief from their symptoms. Now, we have turned our focus on increasing our marketing scope and helping more people across the nation to get the assistance they need."
The Jovium® System features three different products that can be used independently or in various combinations to help people achieve their desired health results. Jovium® Essentials helps to optimize neurotransmitter function in the brain, which helps to regulate mood and decrease anxiety. Jovium® Ultimate Strength boosts metabolism in brain cells to help increase the user's focus and energy and decrease feelings of anxiety or depression. Jovium® Max EPA Omega 3 contains maximum doses of EPA omega 3, which has been scientifically proven to promote enhanced cognitive function and mood regularity.
All of the products are manufactured in North America at GMP-certified facilities and have been thoroughly tested for the quality of their effects and ingredients. In addition to improved cognitive function and better mood regularity, users may experience improved sexual appetite, better attention span and greater energy.
"We strongly believe in the power of the Jovium® System, and are committed to bringing it to a wider customer base," said Nudman. "We are excited to continue to increase our marketing scope and help more people to benefit from these scientifically backed products."
To learn more about Jovium® system products, visit http://www.jovium.com.