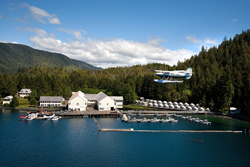 Ketchikan, Alaska (PRWEB) April 28, 2015
Extraordinary meetings and events deserve better than ordinary conference rooms. Waterfall Resort, the most popular fishing lodge in Alaska, puts a distinct spin on workplace "environment" by offering unforgettable experiences in the raw beauty of the Alaskan wilderness. The resort has hosted more corporate events and non-profit fundraisers than any other Alaskan fishing resort and is the ideal venue for "outside the box" incentive travel, customer appreciation trips, leadership development, fundraisers and team building. Ocean-front accommodations with executive suites and meeting space for up to 92 guests, all on 52 acres of jaw-dropping scenic coastline, make the Resort's historic facilities a compelling setting for any event.
Below are Waterfall Resort's tips to hosting a meeting or event in southeast Alaska:
1. Harness Your Pioneering Spirit – Hone your entrepreneurial and innovative edge in "The Last Frontier," the perfect setting to break away from daily routines.
2. Land the Big One – Engage and incentivize sales teams to reel in new business and exceed goals by offering a trip to experience some of the best sport fishing in the world, where they'll have the opportunity to onboard (literally) trophy-sized wild Alaska King Salmon (Chinook), Silver Salmon (Coho), Halibut, Lingcod, Yelloweye Rockfish and more than 20 other abundant species.
3. Think Outside the Box – It can be hard to get extraordinary results from ordinary settings, so try the great Alaskan outdoors as an alternative to traditional conference rooms, for example spending the day on a fishing boat for uninterrupted face-time with key clients.
4. Maximize Your Brainstorming Time – Take advantage of the longer hours of day light in Alaska's northern latitudes, allowing more hours of daylight to explore, engage with meeting participants and get business done.
5. Escape the Heat – Offer a break from the heat waves in the lower 48 with a trip to southeast Alaska, where average outdoor temperatures are pleasantly near 70 degrees all summer long.
6. Increase Attendance – A trip to Alaska is on everyone's bucket list, motivate your audience to register and participate in your event with a chance to cross this dream destination off their list.
7. Hold Their Attention – With so much of Alaska being untamed wilderness and off the grid, it's easy to find ways to step outside from the distractions of a constantly connected world when you want to maintain laser focus.
8. Make a Lasting Impression – People don't remember slideshows and speaking points, they remember how an event made them feel. Give them a memorable experience with Alaska's pristine wilderness and wildlife viewing opportunities, and this trip will stand out amongst the rest.
9. Fly Fast and Easy – Alaska is closer than you might think… Ketchikan International Airport (KTN) is only a 90-minute flight from Seattle (SEA), serviced by both Alaska Airlines and Delta Airlines. No sled dogs required.
10. Bring Home the Bacon… um, the Salmon! – Wild Alaskan salmon is legendary for its fresh flavor and health benefits; combine a business trip with a sport fishing trip and share the tastiest souvenirs ever with the team back home.
From pre-planning to on-site service and support, Waterfall Resort's expert crew is a great resource and trusted adviser during every step of the process. Call Corporate Group Sales at 805.879.3782 or contact Waterfall Resort to start planning a game changing, revenue building event.
###
About The Waterfall Group
Leaders in adventure hospitality management on land, on the water and in the air, The Waterfall Group delivers extraordinary outdoor lifestyle experiences featuring unique and scenic destinations, marine and aviation expertise, satisfying local cuisine, easy travel and warm, friendly customer service. Founded in 1980, The Waterfall Group markets, operates and supports multiple lines of business nationally from all-inclusive Alaska sport fishing lodges to sea plane tours in the Florida Keys.