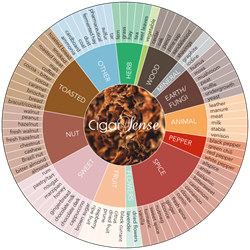 Cigar Sense buys every tested cigar, independence is one of the company's key pillars.
San Jose, CA (PRWEB) May 05, 2015
A new resource is born for premium cigar lovers. Cigar Sense Inc. is an advisory service offering personalized expert advice on which cigars best suit a consumer's unique tastes. "It all began when I re-located to California in 2013. I was suddenly confronted with two problems" Cigar Sense founder Franca Comparetto explains "I could not legally buy the Cuban cigars I was accustomed to smoking in Italy, and instead was overwhelmed by the thousands of non-Cuban cigars available in the New World." This frustrating trial-and-error period led to the Cigar Sense concept.
Many cigar lovers are quite happy smoking the cigars they already know and love, but there are a lot of both novice and expert aficionados that are constantly seeking to expand their horizons. Now these cigar lovers can minimize their risk of expensive disappointment, while also making sense of what they like in a cigar. "Cigar Sense is a unique service that has helped me further grow as a cigar smoker. I've discovered what flavors and characters appeal most to me, and the selections have exposed me to cigars I would not normally try." says early adopter and longtime aficionado Art Schlussel.
The company brings together sophisticated expert systems technology and a methodology hinging on its international panel of cigar experts to build its database. To ensure the most objective evaluations possible, Cigar Sense follows best practices including a rigorous blind testing protocol, procurement of samples through normal retail channels, and multiple tests of each cigar.
"Independence is one of our key pillars. Cigar Sense does not sell cigars, ads, nor our members' personal information" states co-founder David Wells, who adds "In the process, we believe we can help all segments of the industry, since happier consumers will inevitably buy more cigars. Rather than competing with retailers by selling cigars, we want to partner with them." No matter what a cigar's brand, origin, or how highly promoted it is, Cigar Sense recommends cigars based on only one thing: how well does each cigar match the consumers' unique preferences.
The website will be available for a trial of all member features at no cost from Friday May 8th at 9am PST through Sunday May 10th at 9pm PST.
###
About the Company:
Cigar Sense Inc. is a Silicon Valley based, lean agile start up focused on maximizing the premium cigar lovers experience. Established in 2014, the company offers personalized expert advice on which cigars best suit a consumer's unique tastes.