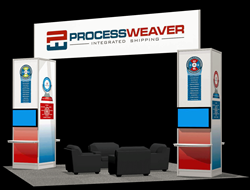 Participating at SAPPHIRE provides us the opportunity to meet face to face with many of our customers, partners, and conference attendees wanting to leverage their SAP system to address shipping needs within SAP landscape
Santa Clara, CA (PRWEB) April 29, 2015
ProcessWeaver specializes in providing enhanced and automated carrier certified multi-carrier shipping solutions. Its technology and logistics expertise has helped shippers throughout North America, Latin America, Europe and Asia-Pacific by taking the complexity out of transportation execution within SAP. ProcessWeaver focuses on providing a solution for all carriers, including address validation, rating, printing carrier compliant labels, shipment documents, and shipment visibility. SAP certified ProcessWeaver multi-carrier shipping software is deployed using the name space provide by SAP and fully integrated with SAP ECC, SAP EWM, SAP CRM, and SAP TM, thus eliminating the need for an integrated 3rd party system.
"Participating at SAPPHIRE provides us the opportunity to meet face to face with many of our customers, partners, and conference attendees wanting to leverage their SAP system to address shipping needs within SAP landscape," said Martin Garza, Senior Director. "ProcessWeaver offers comprehensive carrier and SAP certified native multi-carrier shipping software to improve shipping efficiency and reduce overall cost"
ProcessWeaver subject matter experts will be onsite to discuss how multimodal and multi-carrier transportation solutions can help to ship from within SAP, improve efficiencies, reduce overall freight cost, and increase value to your customers while improving your bottom line. At booth No. 815, ProcessWevever will be providing live demonstrations with insight and tools needed to get shipments to market faster by streamlining supply chain operations and ensuring cross border compliance.
In addition to its integrated multi-carrier shipping product, ProcessWeaver will showcase SAP HANA enabled shipping platform to offer SAP users, across multiple SAP platforms including SAP ECC, SAP CRM, SAP EWM, and SAP TM.
About ProcessWeaver, Inc.
ProcessWeaver is a global leader in providing a comprehensive portfolio of native SAP shipping solutions for businesses worldwide for both inbound and outbound shipping needs. Its systems work with more than 200 global carriers including, FedEx, UPS, DHL, TNT, Purolator, Yellow Freight, DB Schenker, SAIA, etc.
With thousands of installations worldwide, ProcessWeaver's multi-modal and multi-carrier shipping solutions have a proven track record for providing flexible and scalable shipping software to run business better and save shipping costs. For more information about ProcessWeaver solutions, please visit our website http://www.processweaver.com or email us at info(at)processweaver(dot)com or call us at (888) 932-8373
SAP is a registered trademark of SAP Germany. All other names are registered or unregistered trademarks of the individual firms.