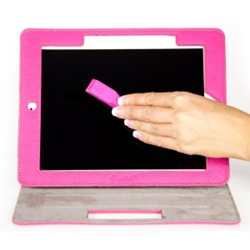 (PRWEB) April 28, 2015
"Gwee" was featured on NewsWatch as part of its monthly Tech Report, which features the latest and coolest technology products available to consumers. Scott Steinberg, a technology expert and special reporter for NewsWatch, conducted the review and shared with viewers how this is the most innovative iPad case.
As much as everyone loves their tablets, it's annoying when fingerprints are constantly on the screen. Aside from looking at them, it's even more annoying trying to clean them off. Sure people can buy a microfiber cloth, but those are so small that people tend to lose them. Well, the Gwee Racer Case came up with a solution to this problem.
This innovative case will serve the usual function of protecting and allowing tablet owners to set it up in any position for easy viewing. It comes with what they call a Gwee Racer which is basically an easy-to-use microfiber pad that attaches right to the iPad using the built in magnets inside the frame. To use it, users just remove the Gwee Racer from the frame and slide it across the screen until clean. But the pad doesn't just clean the screen, it is also an on off switch for the iPad. The Racer has magnets which enable it to control the device's power, so the iPad will turn on when the pad is turned to the left and off when it's turned to the right. The Gwee Racer Case comes in three colors: black leather, ostrich brown, and pink. The price of the device varies from anywhere between $39 and $49.
To learn more, visit http://www.Gwee.com today.
About NewsWatch
NewsWatch is a weekly 30-minute consumer oriented television show that airs on the History Channel, FYI Network, and ION Network. NewsWatch regularly features top technology products and services, mobile applications for iOS, Android, and Windows devices, unique and beautiful travel destinations around the world, health and medical tips, and entertainment interviews on the show. NewsWatch airs on the History Channel at 6:00 – 6:30 AM ET/PT and on the FYI Network from 7:00 – 7:30 AM ET.
NewsWatch is located in the greater Washington, DC area and has been on air for over 25 years. For more information or to watch the most recent episode, visit http://newswatchtv.com/tech-report.html.