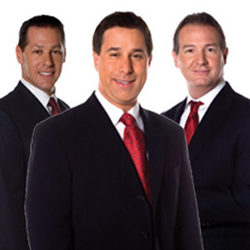 "We are so humbled by this honor," says founding partner, Michael Steinger.
WEST PALM BEACH, FLORIDA (PRWEB) April 28, 2015
Thousands of employees across hundreds of small, medium, and large organizations participated in a survey answering questions specific to the overall health of their organization, contentment with their position, pay, and benefits, and overall motivation to remain employed with their organization. Only 45 businesses would be given the distinction of being listed as a Top Workplace in South Florida.
All winners were invited to a luncheon hosted by the Sun-Sentinel on Thursday April 23rd at the Westin Hotel, Fort Lauderdale. There was a great deal of excitement in the air as it was during the luncheon that the rankings were announced and Steinger, Iscoe, & Greene learned that their 103 employees expressed so much satisfaction that the firm placed 13th out of 25 small companies in the region.
"We are so humbled by this honor," says founding partner, Michael Steinger. "I can't begin to express how immensely pleased we are that our employees hold us in such high regard. Our commitment and responsibility to them is to continue to do all we can to show our
appreciation for their dedication. Without their tireless efforts, our firm would not be successful."
Pennsylvania-based Workplace Dynamics, the organization that administers the study and compiles the data regarding organizational health nationwide, partners with local publications to promote, highlight, and applaud the work of organizations that, based upon employee feedback, are great places to work.
According to TopWorkplaces.com, "The most successful companies are the ones that employees believe in." Founded in 1997, Steinger, Iscoe, and Greene have held a great reputation in the community, but Steinger says he is "…more proud to have a great reputation as a great place to work."
The company is currently recruiting for several open positions and invites prospective employees looking for a dynamic, engaging, and empowering work environment to consider a career with the firm.
About Steinger, Iscoe & Greene:
Steinger, Iscoe & Greene is a proven legal team whose number one goal is to get injury victims throughout Florida and California every dollar they truly deserve for their injuries. Since 1997, the firm has successfully handled thousands of cases including: auto accidents, bicycle accidents, birth injuries, product liability and catastrophic cases. The entire legal team is committed to representing and fighting for injury victims' best interests, giving each client insight into their individual rights as it relates to the law.
With more than 30 lawyers, 140 legal professionals, and offices throughout South Florida - Miami, Fort Lauderdale, West Palm Beach, Port St Lucie, Okeechobee, Ft Myers, Orlando and Tampa - and most recently San Diego, California, the firm is ready to advocate for the best interests of injury victims coast-to-coast while offering the No Fee Guarantee®; you don't owe us any money unless we get money for you.
Steinger, Iscoe & Greene
1645 Palm Beach Lakes Boulevard
Ninth Floor
West Palm Beach, Florida 33401
(800) 560 - 5059
http://www.injurylawyers.com
Contact:
Michael Steinger
(561) 616 – 5550
MSteinger(at)InjuryLawyers(dot)com
Cerissa Stevens
Marketing Director
Office: (561) 616 – 5550
Direct: (561) 932 – 1520
CStevens(at)InjuryLawyers(dot)com