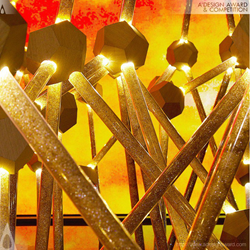 Como, Italy (PRWEB) April 28, 2015
A' Design Award and Competition is pleased to announce that the design project Mangrove by Guilherme Torres has been announced as a winner of the Platinum A' Design Award in Arts, Crafts and Ready-Made Design Competition Category.
More information on Mangrove
Guilherme Torres, the project leader of the awarded Art work Mangrove explained "Designed by the Brazilian architect Guilherme Torres for Swarovski Crystal Palace, the instalation is a big Voronoi diagram, which describes the division of spaces into cells with corresponding focal points, combined with the mangrove-root imagery, leding Torres and his team to design angled structures of acrylic tubes that are filled with amber-colored crystals and illuminated from within by LEDs. These root structures, which Torres wanted to look as if they were made of crystals, are set into shallow pools of water, against a backdrop of projections of an Amazonian sunset." Learn more at: https://competition.adesignaward.com/design.php?ID=39767
Design Team for Mangrove
Mangrove was realized by architect and creative director: Guillerme Torres, Architect: Rafael Miliari , Architect: Ricardo Cipolla , Architect: Arthur Mansur, and Architect: Fabio Mingoti
The Platinum A' Design Award
The Platinum A' Design Award is a prestigious award given to top 1% percentile designs that has exhibited an exemplary level of greatness in design. Entries to the A' Design Award & Competition are peer reviewed and anonymously judged by a grand expert jury panel consisting of established academics, prominent press members and professional designers. Laureates of the A' Design Awards are given the A' Design Prize which includes a series of PR and marketing services such as publication of the award winning designs at DXGN and IDNN design magazines, interviews with the designers, inclusion in World Design Rankings, as well as exclusive exhibition and invitation to the Gala-Night and award ceremony in Italy.
About A' Design Award and Competition
A' Design Award & Competition was designed and developed as a tool to promote good design practices and principles worldwide with a hope to create a global awareness for good design. By creating a global awareness for good design, the competition aims to create demand for better products and projects that make use of good design practices and principles, which in turn, creates additional value for the society. Learn more about the A' Design Awards at: http://www.whatisadesignaward.com