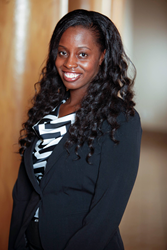 She recounts that there were several "…trials and tribulations that affected my education…", but "…providing for my child fueled my desire to seize every opportunity and perform to the best of my ability."
ORLANDO, FLORIDA (PRWEB) April 28, 2015
The law firm of Katz & Phillips, P.A. recently announced a $1,000 500-1,000 word, essay-based scholarship to benefit a high-achieving single-parent who is either currently attending or plans on attending law school.
The firm was driven to provide this scholarship assistance as their work in the area of divorce has put them in contact with countless newly single parents who find that they need to go begin, continue, or elevate their education in order to appropriately provide for their children. Katz and Phillips recognize that balancing career and home life can be a daunting task. The addition of a rigorous school schedule and the financial burden that comes with it highlight the need for this type of award.
Applicants were asked to choose one of three topics about which to write; describe how single parenthood has affected your education, discuss an obstacle you encountered in pursuing your legal education, or explain how this scholarship will assist you and your family as you pursue your education.
The firm received multiple submissions, but ultimately had to choose only one applicant. Starcee Brown from Stetson University College of Law shared her story and accomplishments and the committee was blown away by the resolve she exhibited.
Brown holds both a Bachelor of Science and a Master of Science in criminology and criminal justice respectively from the University of Central Florida; completing her Master's degree just six month post-undergraduate completion. She had already been accepted to five law schools and then found out she was pregnant and at the same time found she would be doing it all on her own.
Undaunted, Starcee applied to a law school closer to home (where she would have support), was accepted at Stetson University College of Law, and made preparations to begin her studies. She recounts that there were several "…trials and tribulations that affected my education…", but "…providing for my child fueled my desire to seize every opportunity and perform to the best of my ability." This scholarship award will serve to put Brown that much closer to securing the future she wants for herself and her family.
The Katz & Phillips team is very active in the community, noting that one of their goals with their community work is encouraging and supporting future attorneys. Katz & Phillips, P.A. believes the practice of law is valuable and the career, fulfilling. Further, they assert that all dedicated law students deserve an equal chance.