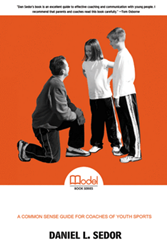 Sedor strives to reinstate values in today's youth sports through actionable ideas, common sense and business acumen
LINCOLN, Neb. (PRWEB) April 29, 2015
Winning isn't everything. With a fixation on tangible successes, many parents and coaches are losing sight of the importance of young players developing social skills and leadership in addition to technical proficiencies.
Instead of aiming for trophies and titles, youth coach and author Daniel L. Sedor believes the focus should be on developing players, creating leaders and making a positive impact on the community. With more than 30 years of experience in leadership business and the world of athletics, Sedor strives to reinstate values in today's youth sports through actionable ideas, common sense and business acumen.
Sedor's book "MODEL Coach: A Common Sense Guide for Coaches of Youth Sports" is dedicated to the development of successful coaching practices. Centered on a well-rounded approach to coaching, the book touches on topics ranging from communication and parental involvement to leadership skills and self-esteem.
"I have seen many different types of positive and negative coaching methods throughout my years of involvement in sports," Sedor said. "The goal of this book is to reinforce the beneficial, character building coaching methods while challenging common coaching behaviors that can be detrimental to a team."
In order to achieve this balance, Sedor shares ways to redefine the coach's role through five foundational actions – the MODEL approach – which help teach coaches of all levels of experience how to become more effective at developing players and leaders in all aspects of life.
For more information, visit http://www.modelbookseries.com.
"MODEL Coach: A Common Sense Guide for Coaches of Youth Sports"
By Daniel L. Sedor
ISBN: 9780595501861
Available in softcover, hardcover, e-book
Available on Amazon, Barnes & Noble and iUniverse
About the Author
Daniel L. Sedor was born in Rochester, Minnesota, and now lives in Lincoln, Nebraska, with his wife Karen. Sedor has played, coached and officiated a variety of youth sports over his lifetime, including coaching his children Amanda and Brad during their time in youth sports. He has more than 30 years of business experience and is currently the executive vice president and owner of Leadership Resources. For more information about Sedor's leadership development business, please visit LRsuccess.com.
# # #