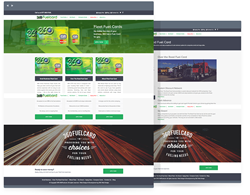 Our internet rankings improved by [OSC Web Design's] smart choices for our niche market. Our site today is user friendly and productive.
Scarborough, Maine (PRWEB) April 30, 2015
360Fuelcard offers fleet fuel cards solutions for small businesses, Over the Road, and mixed fleet companies. 360Fuelcard understands the importance of a reliable fuel gas card for truck fleets, as well as the value of saving at the pump for these businesses. Knowing it was time to update their website for a more modern look, 360Fuelcard worked with OSC Web Design to create a sleek, user-friendly site.
"OSC Web Design translated our business into a website that has a competitive advantage," says Peggi Howell, President of 360Fuelcard. "Our internet rankings improved by their smart choices for our niche market. Our site today is user friendly and productive."
OSC Web Design, a Southern Maine web development company, specializes in creating fully responsive websites for small to mid-sized businesses. OSC puts web visitors and potential customers first, which means they start every design and development project with user experience in mind. Modern elements like bold photography and graphics, unique design details, and a simple, user-friendly navigation are key to each and every OSC website.
Case in point: the new and improved 360fuelcard website has a simple, easy-to-use navigational structure, which allows visitors to quickly and efficiently find what they need. In addition, the site offers a blog with helpful advice for fleet fuel company owners and employees, including: money saving tips, dealing with fuel costs, fleet fuel payment information, and much more!
About OSC Web Design: OSC Web Design specializes in designing and building websites for small businesses, as well as helping companies with web marketing – including Search Engine Optimization, Social Media Marketing, and Email Marketing. Get started by contacting us today.