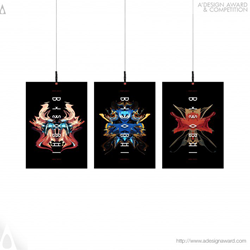 Como, Italy (PRWEB) April 28, 2015
A' Design Award and Competition is pleased to inform that the design project Reflect by Afeef Zaman has been announced as a winner of the Platinum A' Design Award in Graphics and Visual Communication Design Competition Category.
Regarding Reflect
Afeef Zaman, the designer of the awarded Graphic work Reflect said "Music is constantly chaotic and evolving, but always personal. This was the inspiration behind this generative system which fuses the artist's identity with some of his musical journey's aspects. The system fostered the team's attempt to architect DjSarhi's brand identity by capturing momentary tales of his music, whilst representing them in 'Rorschach blot' inspired 'VIBEs'. By algorithmically mixing various seed inputs relevant to the musician, the system can iterate unlimited generations of curated design motifs – each telling a different and unique story." Learn more: https://competition.adesignaward.com/design.php?ID=39748
Team Members for Reflect
Reflect was made by Afeef Zubaer Zaman, Shafiq Alam and Fahim Ahmed.
The Platinum A' Design Award
The Platinum A' Design Award is a prestigious award given to top 1% percentile designs that demonstrates an exemplary level of sublimity in design. Entries to the A' Design Award and Competition are peer reviewed and anonymously voted and evaluated by an expert grand jury panel consisting of editors, professional designers and scholars. Laureates of the A' Design Award are given the A' Design Prize which includes a series of PR and publicity tools such as a feature at DesignAmid magazine, inclusion in Design Classifications listing, press release preparation and distribution in addition to the award trophy, certificate and invitation to exhibition and gala-night in Italy.
About A' Design Award and Competition
A' International Design Award and Competition is focused on promoting, highlighting and recognizing original designs from all countries in all disciplines. The ultimate aim of the design competition is to create a global awareness and understanding of good design practices and principles as well as pushing designers and brands worldwide to create superior products and projects that benefit society. Learn more about the A' Design Contest at http://www.designaward.com