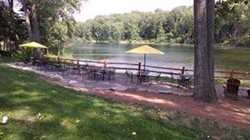 "Fine Wine Memorable Experiences"
7373 Rochester Lockport NY (PRWEB) April 29, 2015
With the construction of a timber frame pavilion by the lake, Spring Lake Winery will create new jobs and expand the winery's offerings, providing a tranquil and unique space for weddings, banquets, parties, and more.
New Energy Works Timberframers will begin pre-assembling the frame Wednesday April 29th and raising the first bents on Thursday April 30th with the completion date of early next week.
The "Raising of the Roof" is a public event, a special day celebrating both craft and shelter where pre-assembled timber trusses and bents are raised with the help of a crane and hand joined with traditional mortise and tenon by expert craftsmen. All are encouraged to stop by this weekend and see their progress.
The high demand for Spring Lake Winery as a wedding destination from brides near and far has lead to their expansion and addition of a Timber Frame Pavilion by the lake. This construction will bring new jobs to the area and extend the season for Spring Lake Winery to host custom world-class weddings and parties.
The Varallo family has shared this unique destination of 78 acres, with a Riesling Estate Vineyard and 8 acre lake, for almost ten years. The story began with "Three generations One Dream of wine makers" to the transformation of "Gravel to Grapes" and now has become "Il Lago incantanto"- The Enchanted Lake - a world class wedding destination. Once you visit you become part of the Spring Lake Family. There is something for everyone and guests do not have to drive far for a "Piece of Paradise". Visit the Tuscan tasting room, tour the tank room where wine is made, take a walk around the trail or savor Lunch by the Lake. In the fall, enjoy music by the lake and the Vineyard Express Sunset Excursion, a train excursion unlike any other in the US.
As an Italian Winery, they love to promote hospitality and joy for all. Come and sit by "Il lago Incantato"
Spring Lake Winery, 7373 Rochester Rd., Lockport, NY 14094 716-471-6648