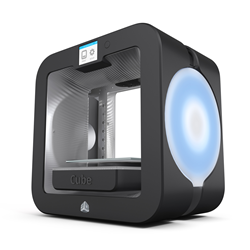 By partnering with 3D Systems, TriTech brings their time- and stress-saving expertise to the burgeoning field of 3D printing.
Waukesha, WI (PRWEB) April 27, 2015
TriTech Corporation, Wisconsin's source for printing expertise, is partnering with 3D Systems (3DS) to bring 3D printing to Milwaukee-area consumers. TriTech is now an authorized reseller of 3DS Cube 3 and CubePro printers, with more services to come soon. TriTech has been southeast Wisconsin's comprehensive provider of printing knowledge, sales and support for over 20 years.
3D printers are rapidly gaining in popularity, quality and accessibility as the technology advances. 3D printers enable people to create custom items in plastic using a process called additive manufacturing.
TriTech believes that supporting 3D printers is the next logical step in their evolution as a leader in technology solutions in the Milwaukee metropolitan area. This move builds on TriTech's strong history with printing technology.
TriTech already provides certified printer repairs on printers, plotters, copiers, multifunction printers (MFPs) and other business technologies either on-site or at their repair depot in Waukesha, WI. They consult with local businesses to determine effective solutions to printing problems, such as using managed print services to simplify their budgeting or integrating secure network printers for offices.
By partnering with 3D Systems, TriTech brings their time- and stress-saving expertise to the burgeoning field of 3D printing.
3D Systems has been developing 3D printing technology for over 3 decades. 3DS is credited with making the first 3D printer, and they developed the STL file format, which is widely used in additive manufacturing. Their 3D printers are used across industries, from aerospace to medicine to electronics to fashion.
The 3DS Cube 3 represents the third generation of 3DS printers for home consumers. The Cube 3 integrates wireless connectivity, cartridges in over 20 colors that load instantly, and a print pad that levels itself. With a clean, elegant design and mobile printing support through the Cubify app, the Cube 3 is perfect for creative individuals. The Cube 3 also meets IEC 60950 Printer Safety Requirements, making it the first kid-safe commercial 3D printer.
The 3DS CubePro is a professionally capable desktop 3D printer. It can print 70-micron thin layers in its controlled print chamber, leading to ultra-high resolution models. It can print in 3 colors simultaneously, and includes support for ABS and PLA plastic, as well as a brand new engineering grade nylon.
These models represent only the first step for TriTech into the field of 3D printing. The Wisconsin-based company will be expanding their services to meet the demand for 3D printers that is sure to come as the new technology becomes integrated into the business life cycle.
Contact TriTech Corporation by phone at (262) 717-0037 or by email at service(at)tritech(dot)com to learn more. Visit TriTech's website to view their comprehensive portfolio of integrated IT services.
About TriTech Corporation:
TriTech Corporation is Wisconsin's source for integrated information technology services. Founded in 1993, we service the entire life cycle of business technology, from design to repair. We help local businesses increase their productivity and reduce their overall expenses through using the right technology. Our certified technicians bring years of experience and proven accountability to every project. We believe that providing integrated services is the best way to save time and money. It's simple and stress free. We take the guesswork out of IT, because we do it all.