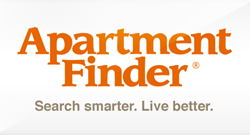 Having each spent the last twelve years at Apartment Finder, Peterson and Follis have been instrumental in expanding Apartment Finder to more markets within their geographical purview.
Atlanta, GEORGIA (PRWEB) April 28, 2015
Apartment Finder, the #1 multifamily resource for active apartment shoppers, augments its senior sales management team with the promotions of two well-regarded seasoned executives, Michael Peterson and Michael Follis, to vice presidents of the Central/Northeast and South Central U.S. regions, respectively. Having each spent the last twelve years at Apartment Finder, Peterson and Follis were most recently regional directors who were instrumental in expanding the brand to more markets within their geographical purview.
Michael Peterson, Vice President, Central/Northeast, will use his 20 years of multifamily experience to take lead responsibility for 17 markets in eight states in the New England, Mid-Atlantic and Central U.S. regions. Peterson's tenure with Apartment Finder began in 2003 as publisher in St. Louis, a start-up market. He was promoted to regional director in 2005 where he and his team have built a strong presence in central and northeastern U.S. Peterson is a graduate of Benedictine College.
In his new role as Vice President, South Central, Michael Follis brings over 16 years of multifamily industry experience. He will oversee the sales and fields operation in seven Apartment Finder markets across Texas and Georgia. These markets include Atlanta, Austin, Dallas, El Paso, Houston, Midland, and San Antonio. Follis joined Apartment Finder in 2003, moving up the ranks to regional director where he managed the hiring, training, and fiduciary responsibilities for the Texas and Georgia markets. Follis is a graduate of Stephen F. Austin State University.
"It has been an absolute pleasure to work with Peterson and Follis over the last 20+ years," said Marcia Bollinger, Apartment Finder's President. "Their field knowledge and team loyalty continue to be impressive and have given Apartment Finder a strong foundation to build upon. Passionate and dedicated, they each make a significant difference every day in their team's local market's progress. I am proud of them and excited for our future growth with their contributions."
Apartment Finder has long employed integrated media marketing strategies, executed via online, social platforms and direct media channels, to create connections for advertisers to apartment renters. Recent innovations and enhancements to the mobile-enabled ApartmentFinder.com include advanced search technology; robust viewing options for apartment listings; a widget offering access to renter reviews; free integrated iOS, Android and Tizen apps; industry-first On Demand Coupons; and much more.
With continued innovations to ApartmentFinder.com, Apartment Finder is recognized as the leading apartment rental resource among consumers and the industry. Recent honors include being named an Official Honoree in the Real Estate category of the 18th Annual Webby Awards, the #1 Apartment Search Source by SatisFacts Index, the Best Internet Listing Service by the Multi-Housing News Technology Choice Awards for the last three years as well as having received a Silver W3 Award for Excellence on the Web, and Silver 2014 International Davey Award in the Website/Real Estate category.
###
About Apartment Finder
Apartment Finder is the anchor of the multifamily division of Network Communications, Inc. (NCI), a leading local media company providing lead generation, advertising and Internet marketing services to the multifamily segment of the housing industry. NCI's leading brands are Apartment Finder and DigitalSherpa. NCI's strategy focuses on providing high-quality and measurable marketing solutions to local clients by leveraging its proprietary prospect-focused distribution, social media and online franchises, and content management infrastructure.