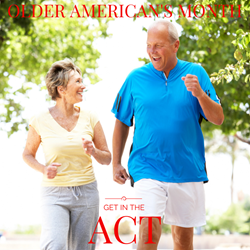 in order to protect the life and sanctity of our seniors, we must all raise awareness of senior abuse and take preventive actions so they aren't taken advantage of
Arlington, VA & Las Vegas, NV (PRWEB) April 28, 2015
The National Crime Prevention Council (NCPC), home to McGruff the Crime Dog®, and AlertID, your family and neighborhood safety network, are working together to increase awareness of public safety for older Americans. NCPC and AlertID are using this year's Older Americans Month theme — Get into the Act, to spotlight crime prevention tips which will help seniors take charge of their health, safety and wellbeing.
According to the National Center on Elder Abuse (NCEA), senior citizens in America, ages 65 and older, are expected to comprise nearly 20 percent of the total U.S. population by the year 2050. "It's a blessing that our seniors are living longer and fuller lives", said AlertID Founder, Keli Wilson. "However, in order to protect the life and sanctity of our seniors, we must all raise awareness of senior abuse and take preventive actions so they aren't taken advantage of."
Elder abuse and financial exploitation crimes have devastating consequences for older Americans, which have a negative impact on their health, their emotional well-being and vitality, and often their independence and ability to live alone. In addition, these crimes and their consequences can sever key social connections with family, friends, neighbors, their churches, or civic groups. "We hear the horror stories of seniors losing their homes, their lives' savings, living without food, or being locked in their homes, alone, without heat," said Ann M. Harkins, NCPC President and CEO. "Making sure older Americans are safe isn't only a family, caregiver, or a law enforcement responsibility. It is a community responsibility."
The signs of physical abuse or financial exploitation can be difficult to detect because of natural aging processes, such as the ability to bruise more easily or the onset of dementia — another devastating safety problem for millions of older Americans and their loved ones. According to NCEA, nearly 5.1 million older Americans have some kind of dementia. This month NCPC and AlertID want all seniors and their loved ones to take charge of their lives. Get into the Act today, by following the safe senior living tips below.
Safe Senior Living Tips

Utilize My Family Wallet™: This sophisticated, yet easy-to-use portion of the AlertID app allows members to store photos and other information about their loved ones. Also, it allows members to share this information with law enforcement and other family members immediately in the event that a senior citizen goes missing, helping to raise immediate awareness of the missing and to reunite them with their families quickly.
Get Engaged in the Community: Social isolation has been directly linked to elder abuse. Protect yourself or loved one by getting involved in family, community or church activities.
Recognize the Signs of Elder Mistreatment: Neglect, financial abuse, physical abuse, emotional/psychological abuse, and sexual abuse can happen to anyone. A study done by NCEA found that nearly 1 in 10 elders experienced abuse or neglect in the previous year. Learn about all the warning signs here: http://www.alertid.com/search/recognizing-the-elder.asp
Review Bank Statements: The growing senior population is being targeted for financial crimes at an alarming rate. Some of the more common methods are disguised as telemarketing calls or emails for sweepstakes, investments, charity contributions, home & health insurance opportunities and more.
About the National Crime Prevention Council
The National Crime Prevention Council is the nonprofit leader in crime prevention. For more than 30 years, our symbol of safety, McGruff the Crime Dog®, has delivered easy-to-use crime prevention tips to millions of adults, teens, and children. Law enforcement agencies nationwide rely on our expertise to make an impact on personal safety and crime every day. For more information on how NCPC can be a public safety expert for you or how to "Take A Bite Out Of Crime®," visit http://www.ncpc.org.
About AlertID, Inc.
AlertID, your neighborhood safety network, is free to use and helps protect families and neighborhoods. AlertID's mission is to help people live safely by providing a secure way to receive trusted public safety alerts and share information with family members and neighbors. AlertID uses technology to help citizens and federal, state and local authorities share information about crime, sex offenders, natural disasters, missing children and severe weather that can threaten public safety. AlertID is accessible to members online as well as by email and mobile app. For more information visit http://www.AlertID.com