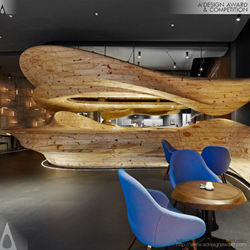 Como, Italy (PRWEB) April 28, 2015
A' Design Award and Competition is pleased to inform that the design project Raw by Camiel Weijenberg has been announced as a winner of the Platinum A' Design Award in Interior Space and Exhibition Design Competition Category.
About Raw
Camiel Weijenberg, the designer of the awarded Interior design Raw explained "The restaurant design tells a parallel tale about Raw and how chef André's food can be experienced. From the bustling streets of Taipei into the restaurant, diners step across a wooden path into a tranquil space welcomed by a lounge area which forms a gentle transition from the city. As guests enter the main space, the centralized dining area is surrounded by the wooden structure begun at the entrance. The wooden structure is the centrepiece of RAW, deliberately placed after examining the settings and dimensions, which is complemented by an interior that diners experience in stages." Learn more at: https://competition.adesignaward.com/design.php?ID=39633
Project Members for Raw Restaurant, Taipei
Raw Restaurant, Taipei was imagined by Director: Camiel Weijenberg, Sharon Guzman, Syahirah Saripin Sketch and Siti Zubaidah
The Platinum A' Design Award
The Platinum A' Design Award is a prestigious award given to top 1% percentile designs that has attained an exemplary level of perfection in design. Entries to the A' Design Award & Competition are peer reviewed and anonymously judged by a grand expert jury panel consisting of prominent academics, press members and designers. Laureates of the A' Design Awards are given the A' Design Prize which includes a series of PR and marketing services such as publication of the award winning designs at DXGN and IDNN design magazines, interviews with the designers, inclusion in World Design Rankings, as well as exclusive exhibition and invitation to the Gala-Night and award ceremony in Italy.
About A' Design Award and Competition
A' Design Award & Competition was designed and developed as a tool to promote good design practices and principles worldwide with a hope to create a global awareness for good design. By creating a global awareness for good design, the competition aims to create demand for better products and projects that make use of good design practices and principles, which in turn, creates additional value for the society. Learn more about the A' Design Awards at: http://www.whatisadesignaward.com