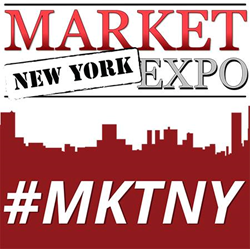 "We're doubling in size and expect to double attendance as well, thanks to the larger space at the Jacob Javits Center and the impressive presenters and exhibitors we have on board for this year's event," said Event Management President Marc Sherer.
New York, NY (PRWEB) April 28, 2015
The second annual Market New York Expo – a business-to-business trade show, conference and networking event for small business owners and executives – will take place from 9 a.m. to 5:30 p.m. Thursday, May 21, at the Jacob Javits Center, 655 West 34th Street, New York, New York in Hall 1E. The all-day marketing and sales networking event will equip small business owners with the knowledge and strategy to increase their sales and growth in the digital age.
"We're doubling in size this year and expect to double attendance as well, thanks to the larger space at the Jacob Javits Center and the impressive presenters and exhibitors we have on board for this year's event," said Event Management President Marc Sherer.
The Market New York Expo offers budding entrepreneurs and small business owners access to high-profile professionals such as Twitter's head of Small Business, Russ Laraway. Laraway's 11 a.m. keynote presentation, "Meet Twitter for Business," will teach small and medium-sized business owners about Twitter tools and tactics to drive results to their target audiences. Attendees will learn how to uncover who is interacting with their business, the value of those interactions, how to grow one's Twitter community and how to integrate Twitter with other marketing platforms.
Alana, Nicole and Juliette Feld of Feld Entertainment, the family-owned global entertainment company responsible for Ringling Bros. and Barnum & Bailey Circus, Disney on Ice, MonsterJam and other successful live entertainment properties, will also serve as keynote speakers in a presentation sponsored by Womancon. Their presentation, "Leading a Live Entertainment Empire – A Conversation with the Feld Sisters," will examine how Feld Entertainment has managed to keep live-entertainment relevant in the face of an increasingly digital world.
"Nicole, Juliette and I are thrilled to be joining forces with Market New York Expo and Womancon to share our experiences as women running a global company," said Alana Feld. "Every day we learn from working with our father, and with each other, about continually moving our business forward and ensuring that the live entertainment we bring to families around the world stays relevant for our customers. As mothers of daughters we look to continue to set an example as strong women working together toward a common goal of growing our family business."
In addition to presentations at the Keynote Theater, Market New York will feature more than 38 seminars across nine marketing tracks, including Target Marketing, Paid Online Advertising, Social Media and Digital Sales. Dozens of business and marketing experts will present on such topics as "How to Make Your Blog a Lead Generation Tool" and "Putting Your Money Where It Counts: How to Prioritize Your Digital Spend." Visit http://www.marketnewyorkexpo.com to view the full schedule. Small business owners and executives are encouraged to network with one another on the show floor. There, SCORE NYC and more than 100 exhibitors will be available to help small and mid-sized business owners improve their companies' performance and growth.
Market New York Expo is a spin-off event from the New York Business Expo and Conference (NYEXPO), the largest and most comprehensive business conference in the Northeast. Last year's NYEXPO, which took place at the Javits Center, drew more than 8,000 business owners and executives and more than 200 exhibitors and dozens of esteemed presenters. This year's Market New York Expo is presented by Co-Communications, Daily News Digital Solutions, Constant Contact, Infusionsoft, Likeable Local, Powerteam International, PrintGiant, Social Fix, Universal Signs & Service, Vipeline, World Business Lenders and Yelp.
Pre-registration tickets can be purchased online for $20 and are $40 at the door. To request booth space, please call 866-44-EVENT. Keep up with the latest in Market New York Expo's news and updates by joining the conversation on Facebook, Twitter and LinkedIn.
About Event Management: Event Management LLC is a Connecticut-based firm with over 20 years of experience in the production of major business shows and special events. Event Management produces trade shows throughout New England and New York. For additional information, visit http://www.eventmanagement.org.