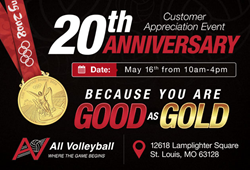 St. Louis, MO (PRWEB) May 04, 2015
All Volleyball is set to serve up a day of fun as they thank their customers for 20 years of loyalty.
All Volleyball, located in the Lamplighter Square Shopping Center, will host a 20th anniversary event on Saturday, May 16th from 10 a.m. until 2 p.m. The event is targeted at celebrating All Volleyball's customers who are all as "good as gold" and the reason for the company's success since 1995!
2008 Olympic Gold Medalist in indoor mens' volleyball Scott Touzinsky will be on hand with his gold medal to sign autographs and talk volleyball! Touzinsky has been a loyal All Volleyball customer since his first spike!
Local volleyball leagues will have representatives on hand to talk with those who drop in. Guests will be treated to food and fun as All Volleyball shares bar-b-que and cupcakes from local hot spots, and are invited to sport their best game face inside the photo booth.
Those who stop by can take advantage of special sales on all of their major brands including Asics, Mizuno, and Molten. There will also be free giveaways and a drawing for a special prize. Those who are unable to attend this event can still receive perks! All Volleyball is taking $20 off orders of $150 or more! Just use the code: 20YEARS between 5/16-5/17.
All Volleyball is grateful for every customer they've served over the last two decades and can think of no better way to say 'thank you' than with this fun filled, family friendly event.
About All Volleyball
All Volleyball is St. Louis' premier volleyball shop. Specializing in products and volleyball knowledge while placing a high emphasis on customer service, All Volleyball has served many clients for several years. Founded in 1995 with just two employees, the company has grown tenfold over the past twenty years. The company strives to provide shoes, uniforms, volleyballs, and accessories at competitive prices. With a flagship store in the Lamplighter Shopping Center, All Volleyball also reaches to the Internet client through their website, http://www.allvolleyball.com.