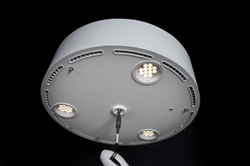 "VaporFree combines salon ventilation, salon lighting, and the Freestylist® in one salon fixture. Fresh air - bright lights - and weightless blow dryers - all in one piece of equipment!" Blair Hopper, CEO
Orlando, FL (PRWEB) May 28, 2015
Freestyle Systems, the leader in ergonomic and healthy salon systems, is introducing the new VaporFree™ Ventilation System integrated with Freestylist Hanging Hair Dryer and SpectraLights LED lighting at the Premiere Orlando Beauty Show, Booth# 3079, on May 30th at the Orlando Convention Center. The VaporFree system is designed to remove caustic fumes from hair and nail salons while providing superior LED natural-like lighting and the therapeutic benefits of the weightless Freestylist®. Freestyle is accepting orders for the LP04 Platform immediately with delivery in ninety days.
The LP04 All-in-One Platform features the new VaporFree ventilation system with twelve ventilation ports that converge via a manifold system into a single ventilation duct for safe and fast evacuation of vapor fumes outside a salon. VaporFree Ventilation comes integrated in an All-in-One platform with SpectraLights TrueColor LED Lights and Freestylist® Hanging Weightless Hair Dryer that harmoniously enhance the look of a salon, energize stylist artistry and creativity, reduce electric bills and sustain the well-being of beauty professionals and their clients.
The integration of VaporFree Ventilation in Freestyle Systems helps salon owners address OSHA violations, and recent headline news concerns about a growing body of medical research that indicates vapors in certain hair treatment and nail polish chemicals are harmful and can lead to serious health problems.
In the May 8, 2015 NY Times investigative report Perfect Nails, Poisoned Workers, author Sarah Maslin Nir wrote, "The prevalence of respiratory and skin ailments among nail salon workers is widely acknowledged. A number of studies have also found that cosmetologists — a group that includes manicurists, as well as hairdressers and makeup artists — have elevated rates of death from Hodgkin's disease, of low birth-weight babies and of multiple myeloma, a form of cancer."
Caustic fumes from formaldehyde and other chemicals in hair products are of great concern to salon owners, and are increasingly coming under scrutiny by OSHA. Recently OSHA found unsafe levels of formaldehyde in the air at three salons and issued citations to the salon owners for failing to protect workers from over exposure to formaldehyde. OSHA also issued citations for failing to follow their formaldehyde standard requirements and cited several products for incorrectly labeling products that supposedly were formaldehyde-free.
Blair Hopper, Freestyle Systems CEO said, "Freestyle's VaporFree Ventilation is likely to be enthusiastically welcomed by the salon industry. The LP04 Combination Platform not only addresses a key health and safety issue by providing a code-compliant environment in salons, but also provides the best LED salon lighting in the industry, and the therapeutic benefits of the Freestylist® Weightless Hair Dryer."
Using a Nutone® Remote In-Line ventilation fan hidden in the ceiling along with 6" duct work, air can be rapidly and safely evacuated at 250 cubic feet per minute (CFM). The LP04 Platform is ceiling mounted to fit with the duct work.
The LP04 Platform featuring VaporFree Ventilation, SpectraLights and Freestylist is available for order today with ninety day delivery. Please call (508) 845-4911 or visit http://www.freestylesystems.com for more information.
ABOUT FREESTYLE SYSTEMS
Freestyle Systems specializes in innovative products that contribute to the health of beauty salon workers, and enhance salon appearance, ergonomics and effectiveness. Freestyle's flagship product, the patented Freestylist Hanging Weightless Hair Dryer, has won wide acclaim for minimizing carpal tunnel syndrome and other negative health issues that plague stylists. Other innovations include SpectraLights LED TrueColor Lighting and VaporFree™ Ventilation Systems. For more information about Freestyle Systems please visit http://www.freestylesystems.com or call (508) 845-4911.
ABOUT OSHA
For more information from OSHA on hair salons and product safety please visit http://www.osha.gov/SLTC/hairsalons/
Media Contact:
John Gitelman
(781) 789-8777
jgitelman(at)freestylesystems(dot)com
###
Freestyle Systems®, Freestylist® and VaporFree™ are registered trademarks of Freestyle Systems LLC. All other names noted herein may be trademarks of their respective holders.