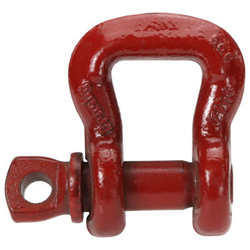 (PRWEB) April 28, 2015
Iowa-based US Cargo Control has recently added 220 new shackles to its lineup of rigging supplies and hardware, offering customers more options in styles and sizes. The new additions also accompanied a redesign on the company's website, USCargoControl.com, to make it easier for customers shopping online.
US Cargo Control Marketing Specialist Patrick Weber says the products now offer customers a wider selection, particularly for those looking for more options in domestic shackles.
"The new shackles from Crosby® and Chicago Hardware offer customers an excellent selection, including everything from basic anchor and chain shackles to more specialized options such as wide body and Sling Saver™ shackles," said Weber.
The rigging supplies and hardware category is one of the largest categories of products for the Iowa-based company, and includes a wide variety of items from basic carabiner clips to heavy duty hoist hooks and wire rope. The expansion of the category follows a similar update earlier this year that included the addition of Grade 120 chain and rigging hooks – the strongest chain grade available in the industry. Weber says the new product lines are in response to growing business customer base interested in purchasing products online.
"While we employ a full team of product specialists ready to take calls from customers, we do have a growing number of customers interested in simply going online and ordering what they need," said Weber. "Expanding our product lines make that easier for customers who know exactly what they need."
About US Cargo Control
US Cargo Control is a leader in the cargo control industry, specializing in lifting slings, cargo control, rigging equipment and moving supplies. Focused on offering quality products, timely delivery, and an excellent customer experience, customers can purchase products on the company's website, USCargoControl.com or by phone at 866-444-9990.