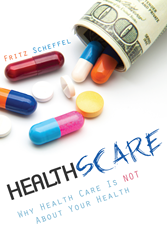 How well do you understand what defines your health?
Atlanta, GA (PRWEB) April 29, 2015
How well do citizens understand what defines their health? Can they wake up one morning and make the decision to purchase good health? Where would they go? These are questions Fritz Scheffel answers in his new book, HealthScare: Why Healthcare Is NOT About Your Health. Scheffel argues that the federal government and health insurance companies have many times led the public to believe that having "healthcare" can make them healthy. Although healthcare is presented as a means to good health, it often negatively effects actual medical care--decimating health professionals' ability to treat their patients effectively and at a reasonable cost.
HealthScare details the history and ultimate failure of government and insurance involvement in the health industry. Using over four decades of experience in the health industry as a pharmacist, Fritz Scheffel argues that American citizens can make the health system efficient, cost effective, and beneficial to all by regaining power over their own health from power-hungry politicians.
"I want to help everyone understand the truths about health care so we can all be healthier," explains Scheffel. "What are the health issues you deal with now, or will have to deal with in the future?"
With HealthScare, Fritz Scheffel offers a balanced and honest appraisal of the history and politics of the health industry; Fritz Scheffel provides readers a path to saving their health and, ultimately, the nation.
HealthScare: Why Health Care Is NOT About Your Health is available through Amazon and HealthScareBook.com
About Fritz Scheffel:
Fritz Scheffel is a writer that confronts the health industry from the inside—using his forty years of working experience as a pharmacist—and from the outside—from his several years as a stroke patient. The author of numerous books on the health care system, pre- and post-Affordable-Care-Act, including Health Care: It Can Be Fixed and Health Care 911: A Health Care Crisis That Did Not Have to Happen.