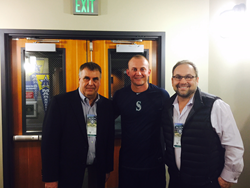 "By liking the Kiel Mortgage Facebook page, fans will be eligible to win signed Kyle Seager merchandise throughout the 2015 season." Paul Bina- Kiel Mortgage, CEO.
Renton, Washington (PRWEB) April 30, 2015
Kiel Mortgage has signed an endorsement contract with Seattle Mariner's, All-Star, Gold Glove, third baseman, Kyle Seager. They are thrilled to add a major league baseball player of Seager's caliber to their endorsement contract repertoire. The endorsement agreement is a business to business relationship that focuses on fifteen, thirty and sixty second radio spots that will air on KJR AM, KCMS, ESPN, and KIRO. In addition, spots will air during play by play broadcast and post-game broadcast on 710 ESPN during the season. The creative ads will tie baseball and mortgage together, in a fun way, and help build momentum for what looks to be a promising season for the Seattle Mariners. An additional component of the partnership is Kyle & Kiel -vs- Cancer. Kiel will be running radio spots to advise listeners to log onto: http://www.seagervscancer.org to pledge a dollar amount for every hit Seager makes during the 2015 season. Half of all proceeds will go to local pediatric oncology programs in Seattle and the remaining half to fund research projects.
Bright Lights Media Group, Kiel's Ad agency, has secured high caliber athletes to endorse Kiel such as: Seattle Seahawk's Richard Sherman, Jermaine Kearse, Russell Okung and former Seahawk, Golden Tate. Bright Lights specializes in mirroring a corporation and its culture with an athlete's image. Branding the two together yields higher results and genuine, authentic commercials that engages audiences.
Kiel Mortgage's CEO, Paul Bina, encourages baseball fans to logon to: http://www.facebook.com/kielmortgage. By liking the Kiel Mortgage Facebook page, fans will be eligible to win signed Kyle Seager merchandise throughout the season. When asked about the parallels between Seager and Kiel, Mr. Bina said, "I am impressed with Seager. He has a strong work ethic which is what our company has always prided itself on. With three decades in the industry we have worked hard to perfect our craft but the work is never done. Just like in baseball, repetition creates excellence, as does continually evaluating systems to create efficiency. Seager just signed a 7 year contract and I am sure he can relate to how important it is to surround yourself with people you can trust when signing a 15 year or 30 year mortgage contract. I wish Seagar all the best this season."
For more information, please visit: kielmortgage.com or give them a call at 1-888-778-KIEL.
XXXXX