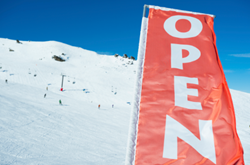 If you want to embrace the lingering feel of winter for a few more weeks, book your VacationRoost rental quickly to hit the slopes one last time at these three late-closing, breath-taking ski locations.
Salt Lake City, UT (PRWEB) April 28, 2015
April is quickly coming to a close and sadly, the end of the ski season will soon follow. If you want to embrace the lingering feel of winter for a few more weeks, book your VacationRoost rental quickly to hit the slopes one last time at these three late-closing, breath-taking ski locations.
Sunday River- closing May 2: Sunday River Resort is located in Maine and is one of New England's favorite ski resorts. Sunday River is massive in size, spanning eight mountains with 132 named trails serviced by 16 chairlifts. It also boasts New England's only chair/gondola hybrid known as the "Chondola". Sunday River boasts an extensive snowmaking system, covering 92% of the skiable acres, making it one of the most dependable resorts on the East Coast.
Sugarbush - closing May 3: Sugarbush is situated in Vermont, tucked against 4,000 foot mountains and is a thriving four-season resort. Visitors come to Sugarbush from all around the world, as it is said "Sugarbush is to Vermont what Steamboat is to Colorado." Sugarbush has 111 named trails, 18 chairlifts, a summit of 4,083 feet, and some of the most diverse terrain on the East Coast.
Squaw Valley - closing May 3: Squaw Valley USA is a famous California ski resort which was home to the Olympics just 50 years ago, and has remained impressive ever since. With 3,600 skiable acres, 177 named trails, and an annual snowfall of 450" per year make this resort a true Western United States treasure. Squaw Valley also boasts one of the most advanced lift systems in the country, with an average uphill capacity rate of 49,000 people per hour!
Lake Louise - closing May 10: Lake Louise is a beautiful and secluded resorts, located in the wilderness of Banff National Park. The resort offers 4,200 skiable acres full of groomers, chutes, bowls, unmarked trails, and glades, made to satisfy any ski-personality. Lake Louise offers green and blue runs from every chairlift, but still incorporates black diamonds for the more skilled skiers seeking a challenge. The resort also offers public and private lessons from very qualified and experienced staff.
Snowbird Ski Resort - closing May 17: Snowbird is tucked away in the Rocky Mountains, just 30 minutes from downtown Salt Lake City, Utah. With 2,500 skiable acres, 11 lifts, and a summit 11,000 feet, Snowbird is not just a local favorite, but also attracts visitors from around the world. Snowbird collects some of the greatest snow on earth, and is filled with bowls, chutes, groomers, glades, mogul runs, and so much more. Every skier is sure to be satisfied at Snowbird Ski Resort.
Sunshine Village - closing May 17: Sunshine Village is a Banff favorite because of its abundance snowfall, uncrowded slopes, and beautiful alpine vista views. The resort is spread over three mountains, giving a total of 3,358 skiable acres with 107 named trails, chutes, and bowls. Annual, Sunshine Village receives 30 feet of light and dry "champagne powder" snow, while giving guests the opportunity to ski in both Alberta and British Columbia in the same run.
Whistler-Blackcomb - closing May 18: Whistler is the largest ski resort in North America with over 10,000 feet of skiable acres spanning across the Whistler and Blackcomb sides. Whistler has been countless ranked among the top ski resorts in the world, including the Top 5 in North America by several established ski magazines. With one of the longest ski seasons of all the resorts, Whistler is truly able to deliver the experience of a lifetime to any skier or snowboarder.
Killington Resort- closing May 31: Killington Resort is located in Vermont and is aptly known as the "Beast of the East" for its trail grooming, terrain parks, and dedication to great snowmaking. The resort is serviced by 22 chairs, including two gondolas and seven high-speed chairs. Killington is home to four nationally recognized terrain parks filled with jumps, ramps, rails, jibs, tabletops, and an 18-foot superpipe.
Loveland - closing May 3: The Loveland Ski Area is located near the town of Georgetown, Colorado. Adjacent to the Continental Divide and Interstate 70, Loveland is within the Arapahoe National Forest. Loveland boasts one of Colorado's highest ski areas with a summit over 13,000 feet. It has two base areas with access to 1,800 acres for skiers and riders. Loveland has 93 trails offering everything from groomers to bowls to trees.
Arapahoe Basin - closing early June: Arapahoe Basin is an alpine ski area in the White River National Forest of Colorado. Half of Arapahoe is above the timberline with open bowl skiing and snowboarding available through spring. The summit reaches 13,000 feet and the resort offers 109 trails with the longest run at 1.5 miles. There's something for everyone on the 960 skiable acres of Arapahoe.
About VacationRoost Inc. (http://www.vacationroost.com)
Based in Salt Lake City, Utah, VacationRoost's team of experienced travel professionals is committed to making booking a vacation rental as easy as booking a hotel room online. VacationRoost.com offers consumers the ability to book over 150,000 professionally managed vacation rentals online and to package them with air, car, and destination travel services. VacationRoost's Partner Services division provides partners with the ability to utilize the VacationRoost transaction platform to book vacation rentals and other travel products on their own sites and to offer their customers complete central reservation travel planning services. For more information, visit http://www.vacationroost.com.