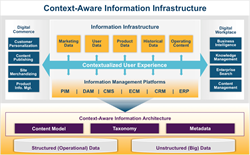 Contextualization is the glue that brings information together in a way that delivers true value and creates a meaningful customer and user experience
Carlisle, MA (PRWEB) April 29, 2015
Earley & Associates, the expert consulting firm with over 20 years of experience designing information taxonomies for global enterprises, has changed its name to Earley Information Science, reflecting a deeper focus on its new structured approach to digital transformation.
Based on the company's comprehensive reference architecture, Earley Information Science (EIS) builds context-aware information architectures that provide a more agile and integrated foundation for an organization's information infrastructure. The architecture is implemented using a methodology that connects and contextualizes multiple sources of enterprise and customer data and content as it integrates the myriad of digital information management platforms offered by vendors. The result is a more contextualized customer experience for today's digital commerce engines and a more relevant and streamlined user experience for digital workplace applications.
"The key to maximizing digital business success is the ability to deliver content in context. Contextualization is the glue that brings information together in a way that delivers true value and creates a meaningful customer and user experience," commented Seth Earley, CEO and founder of Earley Information Science. "Contextualization also represents a critical gap in most digital initiatives as companies tend to focus on the tools and technologies ahead of the content and context. This amounts to putting the information cart before the horse."
Contextualization enhances the relevance of content marketing and social media campaigns, the impact of related product recommendations, the publication of targeted product information, the accuracy of search or the precision of business analytics. Without context, content loses value and its impact on the digital transformation initiative is diminished.
Using its contextualized approach, EIS has helped enterprise clients from a broad spectrum of industries to realize significantly higher performance in terms of revenue growth, transaction velocity, customer retention, operational efficiency and other high-value business outcomes.
These results were enabled by an EIS information architecture, illustrated by the attached diagram, that produced a highly organized information environment utilizing content structures (models), consistent terminology (taxonomies) and data standards (metadata) for transforming advanced digital technologies into business solutions.
Business solutions take the form of B2C and B2B digital commerce applications such as customer personalization, content publishing, site merchandising and product information management. They also take the form of digital workplace applications in the areas of business intelligence, knowledge management, enterprise search and content management. For more information about EIS and its innovative approach to information science, visit our website at http://www.earley.com.
About Earley Information Science
Earley Information Science (EIS) helps organizations harness the value of one of their most important assets – information. We improve enterprise information agility to drive digital commerce innovation, increase revenue, and enhance customer experience with a strong enterprise information architecture and management foundation. EIS helps make information more findable, valuable and useable — thereby helping organizations improve operational efficiency and effectiveness. EIS has over 20 years of experience in working with Fortune 1000 organizations globally across many industries, including manufacturing, retail, financial services, healthcare, life sciences, the public sector, and professional services.
# # #