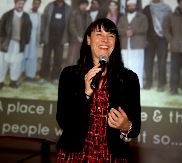 My very sense of self-worth depended on doing something good in the world.
CLAREMONT, Calif. (PRWEB) April 30, 2015
Politics, religion, cultural biases and a lack of self-realization contribute to the conflicts that are ever-present in our lives. The pathway to peace, according to keynote speakers at two weekend events hosted by Claremont Lincoln University is to recognize and embrace the differences that divide us.
Human rights attorney and author Marianne Elliott and clinical/industrial psychologist Edwin J. Nichols, Ph.D., addressed techniques to bridging those divisions using personal anecdotes and practical approaches to resolving conflict.
Elliott spoke about her experiences trying to promote peace in war-torn Afghanistan and the personal crisis that she experienced when the nature of her mission clashed with her goals. The featured speaker at CLU's Gathering April 10, she advised students to live their lives with courage and compassion in order to affect positive change in the world.
Nichols advised students at the university's CLU Live event April 11 to look beyond their own cultural biases to see, embrace and understand the world from differing perspectives.
"It takes courage to see things as they really are," said Elliott, whose book Zen Under Fire chronicles her experiences during a United Nations assistance mission in Afghanistan in 2005, and the existential crisis that ensued when her humanitarian goals conflicted with the political nature of her assignment.
Nichols provided insight into his hallmark paradigm: "The Philosophical Aspects of Cultural Difference," exploring the importance of cultural awareness in leadership and community service. Cultural and environmental circumstances shape attitude and logic, and a lack of understanding about those differences can lead to misunderstanding, he said.
"By the age of 3, your parents fit you with lenses through which you will see the world," he said, providing multiple examples of how different races and cultures view things in their own way. As in spearfishing, when the water in a stream can distort perception, Nichols encouraged students to see things not from where they appear to be, but where they actually are.
"Learn to transcend the lenses," he said.
Bridging differences and building understanding are important tools for peacemaking, according to Darrell Ezell, Director for Interfaith Action at Claremont Lincoln University.
"In today's interconnected world," Ezell said, "we guide our students to engage in acts of mindfulness, dialogue and collaboration that transcend cultural biases and promote change."
ABOUT CLAREMONT LINCOLN UNIVERSITY
Claremont Lincoln University is a nonprofit graduate institution that immerses students in a dynamic learning community, leveraging pluralistic perspectives to promote richer thinking toward transformation. Our mission is to put wisdom to work in the world, and our proprietary Claremont Core methodology enriches the learning experience with mindfulness, dialogue, collaboration and change, enabling students across a variety of sectors to implement change for good. The university offers master's degrees in Ethical Leadership, Interfaith Action and Social Impact. http://www.ClaremontLincoln.org