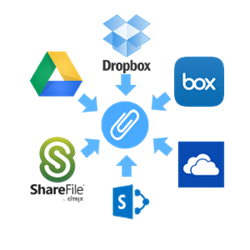 mxHero's Cloud Clips allows for automatic tracking of files sent using popular cloud storage services
San Francisco, CA (PRWEB) April 30, 2015
mxHero, leading developer of email and cloud storage convergence, today announces availability of Cloud Clips, as part of its highly acclaimed Mail2Cloud product. Cloud Clips allows recipients of email messages containing links to files in services like Box, Dropbox, Google Drive, etc. to benefit from the automatic addition of an attachment to mark the email with a paper clip. By having an attachment, recipients will more readily discover files provided through links whether in new email or old.
Cloud storage is rapidly being embraced from consumers to large enterprises. By sharing files from the cloud as links in traditional email, users are able to avoid email's traditional file size limitations and benefit from increased security among many other powerful features cloud storage services now offer. However, sharing files as links embedded in email content does not produce the "paper clip" that email users expect when a message includes additional files. Cloud Clips solves this problem by seamlessly bringing shared file links into the email paradigm.
Cloud Clips automatically and seamlessly identifies messages with shared file links. The service can be installed with any email system and currently identifies shared links of Google Docs, Google Drive, Box, Sharepoint, OneDrive, Dropbox and Citrix ShareFile. No end user action or training is required. The service supports every device whether desktop, tablet our mobile and requires no end user software installation.
As an additional benefit, Cloud Clips can be configured with advanced tracking. With tracking enabled, senders will be notified when each link is accessed by recipients. Advanced tracking shows date and time when each file link is accessed and includes geo-location and device details from which the link was clicked.
"We're very excited about Mail2Cloud Cloud Clips. More and more companies are seeing the benefits of the cloud as a file repository. However, email, which still dominates collaboration in the business world is not natively suited for the exchange of files as links. Cloud Links solves this problem in a completely transparent way," explains Alex Panagides, CEO of mxHero.
Cloud Clips is available as part of mxHero's Mail2Cloud product for a 15 day, no cost trial period at http://mail2cloud.io.
About mxHero
mxHero is a company dedicated to enhancing email for businesses and end users. mxHero's products and services gives companies, service providers and end users powerful new ways to control, use and analyze email. Apps developed for mxHero's platform work with any email management program, including Gmail and Microsoft Exchange. Information on all of their Mail2Cloud product line can be found at http://www.mail2cloud.io. More than 3,500 companies with 800,000 users have added mxHero to their email. To learn more about mxHero visit http://www.mxhero.com. Find mxHero on Twitter: @mxheronet and Facebook: mxHero.net