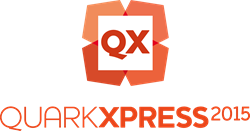 Denver, CO (PRWEB) April 28, 2015
Quark Software Inc. announced today the official availability of QuarkXPress® 2015, the new major release of Quark's graphic design and page layout software. QuarkXPress 2015 delivers what matters most to creative professionals around the world who depend on quality, performance and stability. In version 2015 users will find fast 64-bit architecture, industry-verified PDF/X-4 output, fixed layout interactive (app-like) eBook production as well as an array of the most user-requested features.
Plus, unlike other design software, QuarkXPress is sold as a perpetual license, which means users make a single purchase and aren't locked into an ongoing subscription. Learn more about QuarkXPress 2015 here: http://www.quark.com/2015.
Listening to Customer Feedback
Quark surveyed thousands of QuarkXPress users around the world to discover which features would be most valuable to include in QuarkXPress 2015. The survey, plus a focus on increasing performance, quality and stability, helped Quark develop a new, valuable version of QuarkXPress that features:

64-bit Architecture: QuarkXPress 2015 can now use all the RAM available on a user's computer to deliver performance improvements across the board from file handling and layout rendering to PDF export. Quark has also added multi-threading to the QuarkXPress text engine to further increase performance.
PDF/X-4 Output: By using this latest standard, designers can maintain transparency to enable smaller files, faster output and higher quality print output. The exported PDF/X-4 files are certified by the same technology used inside Adobe Acrobat.
Designer-controlled Automation: From the early days of style sheets, master pages, indexes and tables of content to more recent additions such as shared content, conditional styles and callouts, Quark has always focused on automation. QuarkXPress 2015 builds on this with:
-- Automatic footnotes and endnotes
-- A new, faster table tool for Excel integration with table styles
-- Text variables for automatically populating reoccurring fields – such as running headers
Fixed Layout eBooks with App-like Interactivity: QuarkXPress 2015 combines the best of reflowable eBooks (ePub) with interactive apps for a new digital output format. Users can create HTML5 fixed layout eBooks without any additional software or costs. The fixed layout eBook format (ePub3 or Amazon's KF8), displays pixel-perfect layouts without the complexity and cost of creating native apps.
Plus features and functionality for working faster and smarter, including:
-- Orthogonal Line Tool
-- Custom Page Sizes
-- Relink Any Picture in the Usage Dialog
-- User-definable Shortcut Keys (Mac only)
-- Collect for Output and Usage for Complete Project
-- Table Styles
-- Format Painter
-- Drag Installer for fast and easy activation (Mac only)
-- Yosemite OS X Support
-- Tool Palette, Measurement Palette, and Palette Group docking on Windows
-- Open PDF after Export
-- And more
QuarkXPress 2015 Test Drive and Training Resources
QuarkXPress 2015 is available as a free test drive and everyone who test drives the new version will receive a free design template to help them get started. Quark offers a variety of free training resources for QuarkXPress 2015:
YouTube: http://www.youtube.com/quarkxpresstv
Facebook: https://www.facebook.com/officialQuarkXPress
Forums: http://forums.quark.com
Flexible Upgrade and Support Options
With the release of QuarkXPress 2015, Quark is uniquely now allowing upgrades from versions of QuarkXPress dating back to the 1990s (versions 3 – 10). To purchase QuarkXPress 2015, please visit: shop.quark.com. To note, QuarkXPress offers dual activation, meaning it can be installed on up to two machines and across Mac and Windows platforms.
In addition to upgrades and new licenses, Quark now has new support options for 6 and 12 month technical support plans (shop.quark.com), plus new 12 and 24 month upgrade plans that include upgrades to new versions during the course of a user's plan. To learn more about the new upgrade plans, please contact Quark Customer Service.
Learn more about QuarkXPress 2015 and complete the Buy QuarkXPress 10, Get QuarkXPress 2015 offer redemption form here: http://www.quark.com/2015.
About Quark Software Inc.
Quark's software enables organizations of all sizes to meet customer demand for engaging, relevant communications when, where and how they want them. Our solutions combine the power of XML with flexible layout and design to automate the delivery of customer communications to print, Web, and interactive experiences on the latest digital devices. Financial services firms, manufacturers and governments around the world rely on Quark solutions to elevate customer communications to new levels, reduce time to market and lower costs.
# # #
Quark, QuarkXPress and the Quark logo are trademarks or registered trademarks of Quark Software Inc. and its affiliates in the U.S. and/or other countries. All other marks are the property of their respective owners.