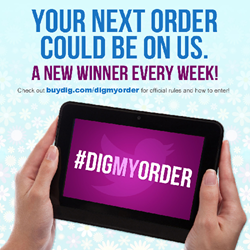 Edison, New Jersey (PRWEB) April 28, 2015
BuyDig.com, the Internet's #1 Digital Superstore, has two great announcements for their customers this spring. The first is the return of the #DigMyOrder offer where BuyDig.com will pick up the tab on a few lucky shoppers' orders between April 27th, 2015 and June 19th, 2015. Participants who follow a few simple rules can find themselves getting their Mother's Day gifts or presents for Dads and Grads virtually free!
BuyDig.com first ran the #DigMyOrder campaign during the holiday shopping season. Due to its overwhelming success, they are re-launching it in time for Mother's Day. As they did earlier, BuyDig.com's plan is to pick up the tab on random orders each week (limit $500 per order) placed between April 27, 2015 and June 19, 2015 if the customer posts the content of their order along with order confirmation number to Twitter using the #DigMyOrder tag. Qualifying orders will be selected at random for complete reimbursement! So, anyone interested in joining in this offer should head over to Twitter and follow @BuyDig today, place their order, tweet a quick description and order number, and remember to use the #DigMyOrder tag. There are other methods to enter for non-Twitter users, such as entry via Pinterest or Facebook. Anyone interested in checking out alternate entry method details should visit the #DigMyOrder information page.
There is no better way to take care of getting gifts for Mom for Mother's Day than to check out BuyDig.com's Mother's Day Gift Giving Guide and then take advantage of their #DigMyOrder offer. For those with luck, Mom will not only get a great gift but they themselves will net some serious savings by getting their order gratis! However, anyone who prefers not to rely on luck for great savings should know that BuyDig.com has some of the best savings around. Currently, they are offering a complimentary gift with the purchase of any Cuisinart product as well as 15% off when using the code "COOKFORMOM" during check out from now until May 31, 2015!
BuyDig.com is always looking for ways to save their customers time, money, and energy. With the chance to get an order on the house plus free shipping in time for Mother's Day, BuyDig.com is working hard to help make Mom happy!
About BuyDig:
BuyDig.com is a privately-held and operated online retailer based in Edison, New Jersey. Founded in 1983 under its parent company, Beach Trading Co. Specializing in selling digital cameras, electronics, computers, tablets, audio/video, home and garden, kitchenware, luggage, sporting goods, fitness trackers and more, BuyDig has worked diligently to become the Internet's #1 electronics superstore. BuyDig partners with many of the major CE manufacturers such as Canon, Samsung, Sony, HP, Lexar, and Cuisinart to make consumer technology and electronics affordable and available to the widest market possible. BuyDig also offers free shipping as well as a 45-day return policy on items purchased from their store. By combining legendary customer service with a philosophy of providing more for less, BuyDig.com has earned its reputation as the premier destination for consumer electronics.