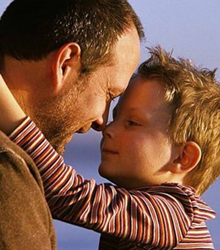 Dr. Nancy Harkey notes that "Acceptance is a very important concept here. The parent whose underlying aim is to change the child's most fundamental characteristics is heading for disappointment, because nature has already had the first word."
Claremont, California (PRWEB) May 04, 2015
In the last twenty years the study of child temperament has advanced from a "niche" idea, known only to a few, to a powerful movement in parenting research and family counseling. It is now well accepted that children bring with them temperament preferences and motivations from the moment they are born. Parents, in turn, have their own temperament preferences and motivations, present at birth and honed by all the years that have followed. A good fit with parent and child temperament eases the way to a lifetime of positive interactions, just as a difficult fit may lead to frustrating conflicts that are poorly understood. Measuring and understanding child and parent temperament can both help to reduce the many conflicts caused by clashes of temperament, and lead to a happier, more accepting, and more harmonious family life.
The Parenting by Temperament website offers you a convenient and effective way to measure temperaments in your family, online. These temperament tests (Sorters) are offered for
the Early Child—age 4-8,Middle Child age 9-12, and Adult/Parent. (We like the term "Sorter" for these because the process involves answering a series of questions about the parent or child's most probable everyday behaviors and feelings, which are then simply "sorted" into four categories, each with two possible temperament poles).
If temperament is partly given by nature, the parents' job should be to help their children cope well in areas that are not a good fit for their natural temperaments—realizing that this is about learning a secondary skill, not changing his/her basic nature. Take an extremely introverted child as a simple example. To assume that this child could (or should) be somehow "trained" to prefer a busy, noisy, crowd-filled world, is a mistake, but helping them to function with reasonable skill and comfort in that world, as needed, may be an important and achievable goal. In addition, the more the parent (for example), is highly extraverted, the harder it will be to see this and accept it. Measuring child and parent temperament, taking time to really understand these differences, and opening minds little by little on both sides of the parent/child dyad, are vital tools. Our experience with over 28,000 participants has been a good measure of interest and satisfaction. A great many who take the test for one family member come back to take it again for others, and the participant number has increased exponentially over the past three years.
The tests were professionally developed at California Polytechnic University, Pomona. Each Sorter taken, produces several pages of feedback, tailored specifically to the responses that were given. This includes the general interpretation of the results, and their meaning for the person, and implications for parenting outcomes. The charge is just $9.95 per sorter. Parenting by Temperament books are on sale at Amazon, and include a Brief Manual for teachers and counselors.