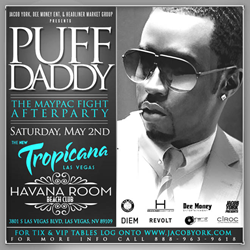 Las Vegas, NV (PRWEB) April 28, 2015
The biggest fight of the century will definitely bring two of the biggest after parties of the century. The 'King of Party's', Diddy will host the #MayPac Fight Weekend after party on Saturday, May 2nd, and Meek Mill will celebrate his 28th birthday during the fight weekend grand finale on Sunday, May 3rd, at Las Vegas's newest nightclub, Tropicana. Both events will take place inside the beautiful Havana Beach Club and will feature two of the biggest DJs in the industry and more. Tropicana Las Vegas is located at 3801 S. Las Vegas Blvd., Las Vegas, NV 89109. Door will open at 10:00 p.m.
Diddy is known for throwing some of the biggest showstopper events to date. From his famous all-white party in the Hamptons to his New Year's Eve bash, when you attend a Diddy party, your night will be filled with high-energy music, beautiful people and a good time! May 2nd will prove to be nothing less, as the original party rocker himself will invade the city of lights and put his stamp on yet another successful event.
Immediately following Saturday night's epic event, Jacob York and Dee Money Entertainment will present the #MayPac Fight Weekend grand finale hosted by hip-hop superstar Meek Mill on Sunday, May 3rd, 2015. Meek Mills will return to Vegas for a second year to celebrate his upcoming birthday.
No stranger to celebrity-filled parties, Jacob York, Dee Money Entertainment and Headliner Market Group have collectively hosted hip-hop's biggest names including T.I., Jay-Z, Beyoncé, Lil Wayne and more. From popular nightspots such as 'Liv on Sunday's' in Miami, FL to star-studded events during NBA All-Star and Super Bowl weekend, all three promoters have a proven track record of producing top-tier, quality events. The #MayPac Fight Weekend will not be any different.
Both events hosted by Diddy and Meek Mill will take place at Las Vegas's newest venue, the Tropicana Las Vegas Havana Room. Considered one of the city's most beautiful venues to date, party-goers will experience 12,000+ square feet of pure elegance and beauty. Guests will be greeted by a magnificent crystal chandelier that is suspended stylishly over a dark wood dance floor. The venue also consists of 40 custom-built banquette-seating areas, multiple full-service bars, premium audio-visual technology and other one-of-a-kind amenities.
Tropicana Las Vegas will sell out. Purchase of advanced tickets and tables are highly encouraged. For more information, please visit http://www.jacobyorkpresents.com or 1-888-963-9618.