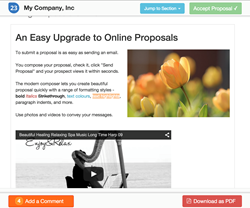 Online proposal software for salespeople to meet quota by collaborating with prospects and internal team.
Melbourne, Australia (PRWEB) April 29, 2015
Plus23 Modern Proposals announces the launch of its new online proposal management service, enables small business owners and sales teams to create and deliver masterfully crafted proposals, quotations and estimates in record time, creating increased sales by keeping buyers in the loop from day one.
Plus23 Modern Proposals offers an online proposal management platform, which improves communication between sellers and clients, and facilitates the efficient creation of sales proposals. These proposals are then shared directly with clients who can add comments or suggestions, and approve them by simply using their e-signature.
Using a style similar to the Basecamp online project management platform which shares projects directly with involved team members and the potential buyer rather than using emails which can be lost, deleted or forgotten, Plus23 modernizes the sales process, sealing deals quicker due to the continual involvement and collaboration of the buyer in the process.
According to Forbes, more than 80% of business is lost due to the client being allowed to walk away without making a decision. With the current economic climate clients have become more cautious. The Plus23 system facilitates a constant back and forth of ideas with the potential buyer, involving them in the proposal from day one, and allowing sales teams to modify their pitches to accommodate the client and make the sale.
In Sales, communication is key. An increasing amount of small companies operate remotely, with the majority of business now conducted over the internet or via phone calls. With Plus23 any communication between the salespeople and potential clients can be logged on the platform, reducing miscommunication and keeping all relevant team-members up to date immediately, regardless of where they are in the world.
"Plus23 is designed with small businesses in mind. With our platform, salespeople may delegate the proposal creation to team members and virtual assistants. All communication with prospective clients can be logged on the platform, allowing the buyer contact person to keep other decision makers in the loop," says SengHee Tan, CEO of Plus23 Modern Proposals.
Using the Plus23 proposal editor software, salespeople can have professional, aesthetically pleasing proposals, quotations or estimates ready to send to the client within 15 minutes of finishing a meeting or sales-pitch. Speed is of the essence and the quicker that clients are presented with the potential deal in writing — with graphs and figures to build confidence — after leaving the positive buzz of the sales meeting, the more likely they are to sign on the dotted line.
About
Founded in 2013 in Melbourne, Australia, Plus23 is an online proposal system for small businesses to automate their sales proposal processes and collaborate to save time and close deals faster. Founded with aim of helping small businesses increase sales in the internet era, Plus23 allows total communication on sales projects, regardless of where in the world the sales team are.