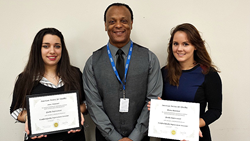 West Palm Beach, FL (PRWEB) April 28, 2015
Keiser University Business Administration students from the West Palm Beach campus, Anna Aramouni and Hanna Hatteland, earned the American Society for Quality's (ASQ), Quality Improvement Associated Certification.
"The faculty and staff at the West Palm Beach campus are very proud of this accomplishment of these two students," stated Kimberly Lea, Campus President. "Business Administration faculty will start preparing a new group of students for the next examination in early December of 2015."
ASQ (American Society for Quality) is headquartered in Milwaukee, Wisconsin, but is a global community of people whose members span more than 150 countries. ASQ is known for providing the quality community with training, professional certifications, and knowledge to a vast network of members of the global quality community. ASQ certification is a formal recognition that an individual has demonstrated a proficiency within, and comprehension of, a specific body of knowledge. Nearly 180,000 certifications have been issued to dedicated professionals worldwide.
The ASQ Quality Improvement Associate Certification Exam certifies that individuals passing the exam have a basic knowledge of quality tools and their uses in quality improvement projects within an organization. Passing the exam confirms a student's commitment to quality and aids in advancing the students' career. Many organizations are now requiring employees to obtain this type of certification before employment. Additionally, certification becomes a great marketing tool when seeking employment.
About Keiser University:
Keiser University is a private, not-for-profit University serving nearly 20,000 students offering 100 degrees at the doctoral through associate level on 17 Florida campuses, online and internationally, employing 3,500 staff and faculty. Keiser University holds Level VI accreditation signifying recognition of its expanded doctoral degree offerings.
Sixty-two percent of KU students graduate in STEM (Science, Technology, Engineering and Math) and healthcare fields, providing the talented workforce necessary for Florida to compete globally. Statewide Keiser University campuses currently have 60 accredited programs, spanning 21 program offerings, from 18 accrediting agencies/regulatory agencies to ensure that the top industry standards are met in degrees such as nursing, occupational therapy assistant, radiologic technology, physical therapy assistant, physician's assistant, and many others.
Keiser University is accredited by the Southern Association of Colleges and Schools Commission on Colleges to award certificates and degrees at the associate, baccalaureate, masters, specialist, and doctoral levels. Contact the Commission on Colleges at 1866 Southern Lane, Decatur, Georgia 30033-4097 or call 404-679-4500 for questions about the accreditation of Keiser University.
For additional information regarding Keiser University, go to http://www.keiseruniversity.edu