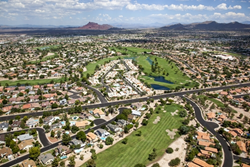 Are lawns and driveways well-maintained, and do houses have recent paintings?
Chicago, IL (PRWEB) April 28, 2015
The Federal Savings Bank knows that when first-time home buyers go house hunting, they're not only looking for a great house, but also a welcoming neighborhood. House hunters should consider what each area has to offer and whether it matches their idea of the perfect neighborhood.
Here are five tips first-time home buyers can use to choose the right neighborhood:
1. Research the school districts
If first-time home buyers plan on raising or moving with their family, good school districts will be a major priority. Since their home address will determine their school district, homeowners could research the scores for individual schools based on quality and performance.
2. Take into account the state of the neighborhood
As house hunters visit open houses and other showings in the neighborhoods, they should evaluate the other homes in the area. Are lawns and driveways well-maintained, and do houses have recent paintings? These could be signs that homeowners in the neighborhood take pride in ownership, which could help increase home values in the area. The type of neighborhood and proximity to high-traffic areas may also contribute to the crime rate, which is another factor to take into account.
3. Look into amenities
Homeowners often want their neighborhood to reflect themselves. First-time home buyers could seek out amenities that help them keep active with their hobbies or interests. For example, they could schedule showings for houses that are close to parks and walking trails if they value exercise and staying fit.
4. Calculate commute to work
Potential homeowners should also pick neighborhoods depending on the commute. Calculate whether it is more feasible to walk, bike or drive to work. Some first-time home buyers might also want to prioritize properties that are near public transportation, which could help alleviate the hassle of their commute. Others might want to be able to walk or bike to work to save on gas for the long term.
5. Cost of neighborhood
How expensive the area is also remains an important part of the equation to find out if house hunters want to move to the neighborhood, Zillow stated. Study up on property taxes for the zip code, if there are any extra charges, like homeowners' association fees and other costs.
As first-time home buyers look for their ideal neighborhood, they can contact The Federal Savings Bank, a veteran owned bank, to learn more about mortgages.