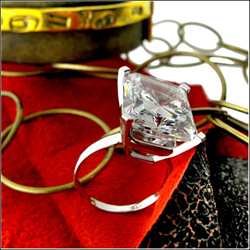 This 16 carat AAA High Quality, IGI certified radiant cushion cut cubic zirconia is set in prong setting.
LOS ANGELES, California (PRWEB) May 04, 2015
ChicJewelry.com announced today it had record sales last month for their Kardashian Radiant Solitaire Engagement Ring, which is a cubic zirconia replica of the engagement ring that Kanye West gave to Kim Kardashian in 2013. The uptick in sales is attributable to the Kardashian family's recent headline-making trip to Armenia and the lasting beauty of the ring.
In October 2013, E! News commissioned ChicJewelry.com to design a cubic zirconia replica of Kim Kardashian's new engagement ring. The stunning ring was a hit on the show and it's been a hit with Chic Jewelry's customers as well. The ring features a 16-carat radiant cut cubic zirconia stone in a four-prong setting with a narrow, classy shank to accentuate the beauty of the stone. Customers have three different choices of ring types when purchasing the Kardashian Radiant Solitaire Engagement Ring: 14k white gold, 14k yellow and 95 percent platinum.
The Kardashian Radiant Solitaire Engagement Ring is a tribute to the elegance and style that has made Kim Kardashian famous all around the world. Buying the Kardashian Radiant Solitaire Engagement Ring gives women everywhere the chance to experience some of this luxury and feel like a Kardashian for a fraction of the cost of the diamond engagement ring.
Affordability is just one reason why so many people are choosing the Kardashian Radiant Solitaire Engagement Ring as an alternative to a diamond ring. Cubic zirconia has a fire and brilliance that is even greater than diamonds and some women prefer cubic zirconia as a stone for a show-stopping ring. Wearing cubic zirconia engagement rings also brings a level of comfort for women who don't have to worry about wearing – or losing – an incredibly expensive ring. And as Kanye West noted in his hit song "Diamonds from Sierra Leone" there are serious ethical dilemmas about wearing diamonds that can be alleviated by choosing cubic zirconia.
The Kardashian Radiant Solitaire Engagement Ring is just one of the many designer wedding rings and engagement rings in the Chic Jewelry collection. Visit ChicJewelry.com to see their entire catalog of cubic zirconia jewelry.
About ChicJewelry.com:
ChicJewelry.com is an online retailer of high quality cubic zirconia jewelry. The company is located in the Los Angeles Jewelry District and provides retail sales and services to the entire jewelry industry.