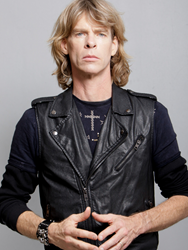 I do my best to instill a passion for heavy metal and hard rock music in my audience.
Los Angeles, CA (PRWEB) April 29, 2015
The new television show "Heavy Metal Greg Goes to the Grammys," by host, actor, writer and director Gregory Graham, will air on Torrance Cablevision on May 6th at 9:30 p.m. and again at 4:30 a.m. It is a 30-minute television show that was shot on February 8th, 2015.
This show features Greg interviewing rock musicians such as Lemmy from Motorhead and members of bands, including Cage the Elephant, the Black Keys, and many more. Greg gives viewers an up-close look at what it is like to be at the Grammy Awards in Los Angeles and the excitement that it brings to both fans and musicians.
When Greg said to Lemmy, "You wrote a very good song," Lemmy joked, "Well, I have been practicing for some time now. If I am not good at lyrics by now, I should shoot myself."
While the Grammys were going on, a weightlifting competition was ending near the Staples Center. So, Greg also interviewed a weightlifting national champion for this show, who told him that he had just dead-lifted 665 pounds. Displaying his laid-back humor, Greg responded that he had a tree log that he needed moved.
Back at the Grammys, Greg interviewed Christopher Willis, who won his 4th Grammy Award in the classical music category. "I can really kick back and enjoy it this time, because I am much more relaxed instead of worrying about the details," Christopher shared with Greg.
This TV show was shot by Emmy winner Dan Feliz. "I have worked with Dan on many other projects and he knows me well, which makes it easy to produce a great show," concluded Greg.
So, check out "Heavy Metal Greg Goes to the Grammys" on May 6th if it is showing in your area.
Written by Stefanie Friesen
Gregory Graham is an award-winning actor/screenwriter/director and has been acting since 2000. He has 56 IMDb acting credits and has acted in several movies as well as TV series such as "CSI Miami" and "Trust Me." Gregory's Youtube channel is "Heavy Metal Greg."