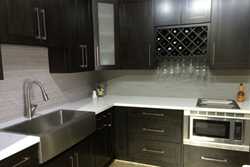 san diego, ca (PRWEB) May 01, 2015
CabinetDIY are helping to turn DIY enthusiasts into interior designers. With all the DIY shows on television and the range of books available, more people than ever before are turning their hands to DIY. The majority of those people are undertaking jobs that were once left to professional handymen.
The leading suppliers of Ready To Assemble Cabinets are always on hand offering their customers advice to improve their kitchen and bathrooms, and now they have launched tips on finding the right backsplash that will complement their kitchen.
The right backsplash makes a kitchen stand out. However, choosing the wrong backsplash could turn what should be a stunning kitchen into an expensive mistake. That is why it is important to choose the right one to complement the room and kitchen furniture.
CabinetDIY are advising customers to test different colors with the kitchen furniture they have or are planning to purchase. By using samples and attaching them to the wall, homeowners can see if the backsplash will become a focal point and complement the kitchen furniture.
With the huge range of tiles available, a backsplash does not have to be a plain color. However, it is important to keep in line with the kitchen furniture and not to choose tiles that make them look out of place.
It is important to gain opinions from family and friends. What might look good to one person may not look good to another, so it is important to see what people think. As well as gaining advice, it is important to choose the backsplash during normal daylight hours and not in the evening where there is no natural light.
For homeowners who would like more advice on choosing the right backsplash, they can speak to CabinetDIY, who provides a wide selection of quality Ready To Assemble kitchen and bathroom cabinets.
For more advice and different designs of Ready To Assemble Cabinets, please visit http://www.cabinetdiy.com.
About CabinetDIY
CabinetDIY was established in 2004 to provide professional interior design services and products throughout North America and beyond. The company's team takes each customer's need, complaint or suggestion seriously, constantly improving their services and products to meet the demands for quality, uniqueness and diversity of the today's generation.