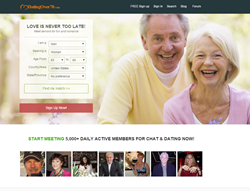 DatingOver70.com - A dating service really facing people 70 plus years old.
Los Angeles, California (PRWEB) April 29, 2015
April has always been a happening month for the online dating industry. This year, senior men and women have something to rejoice about thanks to the launch of DatingOver70.com.
Interacting with the local press at the launch event, a spokesperson from the website said, "DatingOver70.com is a specialist platform which aims to bring together senior singles from various walks of life. We emphasize people who are over 70 years old and in search of a partner. This website boasts of every feature you can imagine, coupled with a dynamic user interface that is easy to use."
Medical experts and psychologists believe that seniors are more prone to depression and other mental illnesses caused as a result of loneliness. "It is good to see websites like DatingOver70.com come up with something innovative and effective that can help two senior singles get together. Bringing two lonely people is undoubtedly a noble deed," California-based psychologist Diana Johnson said.
Whilst there are several dating sites that cater to the needs of senior singles, DatingOver70.com aims to provide the best services. First of all, this site is free to register with. Prospective users of this site are encouraged to create a comprehensive profile and also add a few photographs. In addition to this, the website employs search engines in order to make it possible for a user to find their ideal match.
DatingOver70.com also encompasses a few advanced communication options such as email and an instant messenger. There is also an extensive FAQ and customer support cell, which serves the purpose of resolving queries. The affordability of this site is another reason why this website is expected to become one of the leading over 70 dating services in the future.