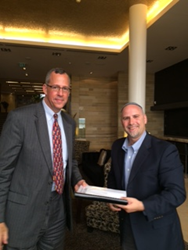 Jerusalem, Israel (PRWEB) April 29, 2015
United with Israel (UWI) recently presented a petition to the US Embassy in Tel-Aviv signed by over 100,000 American citizens demanding that President Obama and the US Congress continue with sanctions until Iran's nuclear program is completely dismantled.
United with Israel's executive director David Zeit met with Keith Mines, the embassy's political counselor, and officially presented him with five copies of the petition that urges President Obama and the US Congress to prevent Iran from reaching nuclear capability and to prevent Israel and Iran from an otherwise seemingly inevitable course of direct military confrontation.
The petition was signed by 105,485 U.S. citizens in addition to some 175,000 non-American UWI supporters. It was prominently placed on the UWI website where it was seen by millions of online visitors.
Among other things, the petition emphasized that "Israel's very existence is at stake and there can be no bargaining over this….There can be no compromise with or appeasement of leaders who are committed to the destruction of Israel. The Jewish People cannot and will not be threatened with another Holocaust."
Copies of this petition were sent to Secretary of State John Kerry, Speaker of the House John Boehner, Senate Majority Leader Mitch McConnell, Republican Senator Ted Cruz and Democratic Leader Nancy Pelosi.
At the meeting Mines said, "The US Embassy meets frequently with grassroots citizens' organizations. It sees tremendous value in their ability to enhance the public dialogue over an issue and raise awareness among citizens in both Israel and the United States. We deeply respect their views and actively seek to reflect those views to policymakers."
Contact:
David Zeit
Executive Director
dzeit(at)unitedwithisrael(dot)org