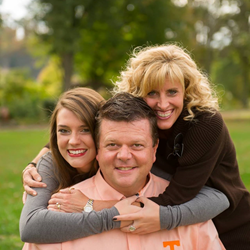 2014 Happiest Community of the Year Attracts Top Talent
Knoxville, Tennessee (PRWEB) April 29, 2015
One of the friendliest and most talented golf pros in Tennessee, Jim West, recently earned the highest honor bestowed upon a PGA Professional, the 2014 Golf Professional of the Year. The achievement is earned from a culmination of more than 23 years serving as an outstanding golf professional for Tellico Village and other prestigious golf facilities.
For more than 12 years, Jim West has toured the fairways and greens of Tellico Village's golf courses. He has worked every job imaginable to better understand what his team members and property owners sense and experience as they work at and enjoy the game of golf. Tellico Village has three championship golf courses: The Links at Kahite Golf Course, The Tanasi Golf Course and The Toqua Championship Golf Course. The village has thrived under West's leadership. He's been able to improve every aspect of the club including merchandising, turf grass, fleet maintenance and handicapping. Through his continuous effort and dedication, he's been able to raise revenues significantly and cut back on expenses of the club.
Tellico Village is one of the most popular waterfront retirement communities in Eastern Tennessee and is the place to find some of the best lake homes. It's close proximity to Knoxville is also attracting a fair share of young families raising children who long for refined country living near an urban city. Located in the foothills of the Great Smoky Mountains, Tellico Lake is a clean 16,000 acre lake that can take you to the Gulf of Mexico through the Tennessee River lock system. It's been named one of the Best Places in the U.S. for Boating by Boating Life Magazine.
Amenities at the village include:
Three 18 Hole Championship Golf Courses
Lakefront Yacht Clubhouse with dining
Three Golf Clubhouses with dining
26,000 Square Foot Wellness Center
Indoor and Outdoor Swimming Pools
10 Tennis Courts 8 Pickleball Courts
Full Service Marina with Boat Slips
Community Parks
New Library
Like many of the Villagers, West's commitment reaches beyond Tellico Village. He serves as the Knoxville Education Chair on the Education Committee. He's also a volunteer supporting the Children's Advocacy of the 9th District, Kiawanis Club, Monroe County Council for the Arts, Lions Club and Volunteer Fire Departments. This award is one of the many awards bestowed upon a villager and the village. In 2014, Tellico Village received the most coveted Bliss Award as Happiest Community of the Year from Real Estate Scorecard. Over 900 happy property owner reviews are available to read on Real Estate Scorecard's website by scrolling to the bottom of Tellico Village's community review page.
Buyers looking for the best lake homes would be smart to start with exploring Tellico Village, one of the largest master planned communities in Tennessee.
Here's Tellico Village's Discovery Package
Whether looking for waterfront retirement communities or a safe place to raise a family, the village has it all. Call Tellico Village direct at 888.287.0676 to plan a tour of the community.
About Real Estate Scorecard:
Real Estate Scorecard writes unbiased real estate reviews providing in-depth information about popular gated communities in Florida, Georgia, North Carolina, South Carolina and Tennessee, all in an effort to help people discover where to retire in the Southeast.
Website: http://realestatescorecard.com