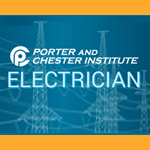 Have you always been fascinated by the amazing power of electricity?
Rocky Hill, CT (PRWEB) April 30, 2015
Porter and Chester Institute has created a brand new infographic "An Electrical Career: Is this Bright Future Right for You?" that highlights the path to an electrical career. The bright, bold and easy-to-follow infographic takes the reader on a journey from initial interest in electricity to becoming a Journeymen or Master Electrician.
Asking "Have you always been fascinated by the amazing power of electricity?" the infographic outlines many traits that would help one become a successful electrician. It suggests that electricians need to have natural mathematical aptitude, good hand-eye coordination and a curious mind. It also explains what electricians do, where they work, and the kinds of tools they use.
Highlighting the electrical technology program at Porter and Chester Institute, the infographic explains the hands-on training the school provides in its one-year program. The infographic also features the detailed steps one would take to become an electrician in Connecticut or Massachusetts. It provides information about age, education, and apprenticeship suggestions and requirements. In addition to the fundamentals of electricity and the electrical trade, students at Porter and Chester Institute are prepped for their certification exams and instructed on the National Electrical Code. Porter and Chester Institute also teaches the soft skills that employers seek in new hires. All of this is clearly expressed visually in the infographic.
The infographic shows that there are good job prospects for those entering an electrical career. It notes that average salary for both electrician apprentices and electricians in Connecticut and Massachusetts were among the highest in the country in 2013.
Those interested in an electrical career can access the infographic now or visit the school's website for more details about Porter and Chester Institute's Career Industrial, Commercial & Residential Electrician program.
About Porter and Chester Institute:
Porter and Chester Institute is a Connecticut-based postsecondary institution with more than 60 years of experience providing technical, business, and healthcare occupational preparation. Founded in 1946, the Institute trains more than 3,000 students annually through its nine campuses in Connecticut and Massachusetts. Porter and Chester Institute is accredited by the Accrediting Commission of Career Schools and Colleges (ACCSC), is approved by the Connecticut Office of Higher Education, and licensed by the Commonwealth of Massachusetts Division of Professional Licensure, Office of Private Occupational School Education. Porter and Chester Institute uses hands-on education to prepare students for successful careers in a variety of fields.