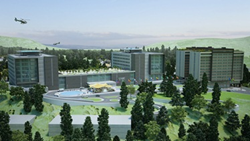 The new Oncology Institute at the Hospital International de Colombia (HIC) is expected to open in 2016 in the city of Piedecuesta, serving an unmet need in the region for advanced oncology services.
Pittsburgh, Pa (PRWEB) April 30, 2015
In a significant expansion of its long-time partnership in Colombia, UPMC today announced a 10-year agreement with the Fundación Cardiovascular de Colombia(FCV) in Bucaramanga to develop and co-manage an oncology center for adults and children, the first private cancer program in Colombia.
The new Oncology Institute at the Hospital International de Colombia (HIC) is expected to open in 2016 in the city of Piedecuesta, serving an unmet need in the region for advanced oncology services. Currently, patients must travel hundreds of miles to receive such care in other regions of Latin America. Colombia alone will see nearly 80,000 new cases of cancer this year, a number expected to grow to 113,000 cases annually over the next 10 years.
"By providing access to UPMC's world-class clinical, administrative and operational processes, the FCV aims to better serve patients both within Colombia and throughout Latin America," said Victor Castillo, M.D., chairman of the FCV. "This agreement builds on our successful six-year relationship in cardiology with Children's Hospital of Pittsburgh of UPMC." Children's partnered with the FCV in 2009 to develop a comprehensive heart center to treat pediatric congenital and vascular diseases. Children's provides the FCV with advanced medical expertise and technologies, including remote monitoring of pediatric intensive care unit patients and telemedicine rounds for heart transplant, cardiac catheterization and cardiac surgery.
The proposed oncology center, to be financed by the FCV, will include chemotherapy and radiotherapy services, as well as a bone marrow transplant unit. Additionally, it will house a palliative care program, counseling and nutrition services and a pain management program.
"As part of UPMC's first integrated project involving staff from Children's, UPMC CancerCenter and UPMC's International Services Division, our partnership with the FCV will offer cancer patients in Colombia the highest quality care close to home," said Ricardo Muñoz, M.D., chief, Cardiac Intensive Care Division, Children's Hospital of Pittsburgh of UPMC. "By collaborating with the FCV, a leader in cardiac care dedicated to the highest quality for its patients, we will be able to raise the standard of cancer care in a vastly underserved region."
The FCV is a leader in cardiac care in Latin America and is ranked No. 1 in Colombia and No. 4 in Latin America by América Economía, which uses a ranking methodology similar to that employed by U.S.News & World Report's "Best Hospitals" ranking. The first institution in Colombia accredited by the Joint Commission International, the FCV expects its new hospital to house 870 beds, including 20 beds for inpatient oncology care. In addition to oncology, the FCV is planning four additional specialized institutes.
During the pre-operational phase of the project, UPMC will provide guidance on training for physicians and nurses, equipment selection, construction plans, operational policies and procedures, and provision of clinical pathways and oncology care best practices. After the facility opens, UPMC will act as co-manager and provide on-the-ground support to the center through dedicated staff members in Colombia, supplemented by visiting staff from Pittsburgh, as well as ongoing telehealth initiatives.
"This expansion of our relationship in Colombia underscores the strong reputation that UPMC has earned worldwide for working effectively with our partners to improve the quality and accessibility of care," said Charles Bogosta, president of UPMC's International Services Division.
Through UPMC International Services, UPMC shares its clinical, technological and managerial knowledge and expertise with partners around the world, customizing solutions to benefit patients and regions. The goal is to advance UPMC's mission of transforming the way health care is provided, while revitalizing the economy of western Pennsylvania.
# # #
About FCV
The FCV is a private, nonprofit organization in northeastern Colombia, South America, residing in the city of Bucaramanga, which develops and manages a variety of hospital services currently consisting of four different hospitals throughout Colombia. As part of its new strategy, the FCV will expand its many specialties and services through the International Hospital of Colombia, which will have five specialized institutes and seven centers. The FCV also plans to add a set of high complexity hospitals in different regions of the country to be articulated within an integrated network of health services. For more information, go to http://www.fcv.org
About UPMC
A world-renowned, $12 billion health care provider and insurer, Pittsburgh-based UPMC is inventing new models of accountable, cost-effective, patient-centered care. The largest nongovernmental employer in Pennsylvania, UPMC integrates more than 60,000 employees, more than 20 hospitals, more than 500 doctors' offices and outpatient sites, a more than 2.5-million-member health insurance division, and international and commercial operations. Affiliated with the University of Pittsburgh Schools of the Health Sciences, UPMC ranks No. 12 in the prestigious U.S. News & World Report annual Honor Roll of America's Best Hospitals — and No. 1 in Pennsylvania. For more information, go to UPMC.com.
# # #
Contact: Wendy Zellner
Phone: 412-586-9777
E-mail: ZellnerWL(at)UPMC(dot)edu
Contact: Evaristo Vega Fernández
Phone: +57 3186865195
E-mail: evaristovega(at)fcv(dot)org