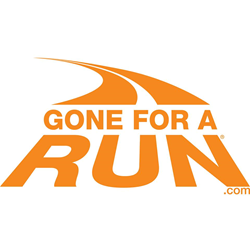 We're so excited to be able to continue to bring runners together from all over the country to participate in this race
Norwalk, CT (PRWEB) May 04, 2015
Gone For a Run, the leader in running gifts and accessories, is pioneering a new kind of race in which runners "log-in" their times online as opposed to meeting on a track or at the starting line of a road race.
"Virtual runs" (as the company calls them) take advantage of the Internet and mobile devices by setting up a system in which competitors can run wherever they want to individually. During a set time frame, competitors can run wherever they choose so long as the distance is the same. After they're done, they can submit their times to Gone For a Run's social media pages (Facebook.com/goneforarun) and thereby compete with other runners for awards and prizes, just as in a regular race.
Ryan Lynn, the company's director of marketing, says that they are hosting a virtual 10K race after the success of their first virtual run, the "Log Off Shut Down Go Run Virtual 10K," this month.
"Our last run was extremely well received," Lynn said. "It sold out well before the deadline to enter. One thousand runners total."
Due to its success, Gone For a Run will continue to offer virtual races in varying distances. It has even called the races the "Gone For a Run Virtual Race Series 2015."
"We got a lot of requests to turn it into a whole series of races," he said. "Now we will be doing one every month."
Their second race, the "Bada** Runner Virtual 5 Mile Run," will happen from May 29th through the 31st. Registration is open now with three options available. The $30 basic package includes a t-shirt, car magnet, race bib, and a unique medal. The other two options, $36 each, includes the same items in the basic package as well as either a pair of socks or a pair of shorts that say "Bada** Runner" on them.
As in the first race, there will only be 1,000 slots, and Lynn feels confident that they will sell out faster than in the first.
"We're so excited to be able to continue to bring runners together from all over the country to participate in this race," he said. "We can't wait to see the turnout for our next race coming up in May."
About Gone for a Run
Gone For a Run is a company committed to connecting runners to top quality products. Their products range from running gear like energy gels and arm sleeves to enhance the running experience, to thoughtful gift items such as drinkware, magnets, and jewelry. To learn more, visit goneforarun.com.