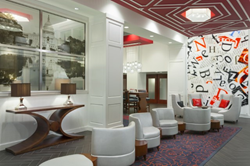 Washington D.C. (PRWEB) April 29, 2015
OTO Development, a South Carolina-based developer, owner and operator of hotels, announces that the Hampton Inn Washington, D.C. / White House has received historical preservation status, from the National Trust for Historic Preservation.
For 60 years, the iconic Editor's Building in Washington, D.C., was the center of industry-leading reporting on personal finance and business forecasting. OTO Development, Bruce Collins, comments, "Transforming it into the 116-room White House Hampton Inn hotel proved to be a great opportunity for sustainable design, given the potential for adaptive reuse as well as the site's proximity to major public transportation options within the District of Columbia. During construction, a focus on sustainable design essentially preserved the iconic features of the building while maximizing its long-term prospects."
"In January 2015, the Hampton Inn Washington, DC White House was honored with the official designation of Landmark status within the D. C. Inventory of Historic Sites, due to the building's association with the Kiplinger Washington Editors company, as well as its mid-century Modern design by architect Leon Chatelain, Jr. In tandem with this announcement, the Historic Preservation Review Board recommended the landmark nomination be forwarded to the National Register of Historic Places. We're pleased to see the story of this building reach such an honor with this designation."
Last November the Hampton Inn Washington, D.C./White House was also honored with LEED Gold certification, becoming one of the first Washington hotels to obtain that designation.
About OTO Development:
Established in 2004, OTO Development is an award-winning, rapidly growing hotel development and management company. Our industry leadership position is anchored by a portfolio of great hotels managed by exceptional people. In the past ten years, OTO Development has developed over 60 hotels and currently operates portfolios of hotels for a publicly traded REIT, private equity firms and high net worth individuals. Today, the company continues its impressive growth with more than $1 billion in urban new development projects in Seattle, San Francisco, Los Angeles, San Diego, Manhattan, south Florida and Washington DC. For more information about OTO Development, please visit http://www.otodevelopment.com.
About the National Trust for Historic Preservation:
The National Trust for Historic Preservation, a privately funded nonprofit organization, works to save America's historic places. http://www.PreservationNation.org