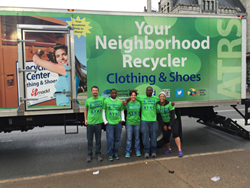 Donations such as these are invaluable to keeping our programs and meal services in place. We are so grateful for the help in bridging the gap between waste reduction and serving those in need." --Willie White
Nashville, TN (PRWEB) April 28, 2015
The third annual Rock Run Recycle campaign kicked off at the at the St. Jude Country Music Nashville Marathon this past weekend (April 23-26th) and inspired more marathoners than ever to shed their layers on behalf of the local chapter of Mothers Against Drunk Driving.
Sponsored by American Textile Recycling Service (ATRS), the campaign encourages runners, participants and supporters to bring gently used, unwanted clothes, shoes and other running apparel to the ATRS booth during the two-day Health & Fitness Expo, and drop off warm up gear along the course on race day. Every pound collected supports the local chapter of Mothers Against Drunk Driving (MADD).
ATRS staffers and official green recycling fairies were on hand at the Expo collecting donations and sharing information about the importance of textile recycling. Volunteer assistance from MADD in Nashville along the race path enabled crews to collect dropped items and clear the notoriously hilly course of valuable recyclables for reuse and redistribution.
In spite of unusually warm weather on race day, this year's campaign brought a record amount of approximately 3,000 lbs of warm up gear, clothing, shoes and unclaimed finisher medals, tees and other race day swag. An additional 3,000 lbs. of perishable foods including bagels, bananas and snack packs were donated to the Nashville Rescue Mission. These much-needed items will aid in the daily support the local shelter provides help to the hungry, homeless and hurting.
"Donations such as these are invaluable to keeping our programs and meal services in place," Willie White, Donations Center Manager for Nashville Rescue Mission, "We are so grateful for the help in bridging the gap between waste reduction and serving those in need."
ATRS would like to thank local nonprofit partner MADD in Nashville for providing volunteer assistance as well as Music City residents and visitors for participating in this locally focused recycling program. Pounds collected at the race totaled the largest Nashville diversion rate in Rock Run Recycle campaign history.
American Textile Recycling Service (ATRS) is the nation's fastest growing textile recycler and an official recycling partner of The Rock 'n' Roll Marathon series. Its socially responsible business model provides free textile recycling solutions for the public, job stimulation worldwide and much-needed funding for worthy local charities. Easy, convenient ATRS Recyclers are available throughout Tennessee, Atlanta, Orlando, Phoenix, Scottsdale, Tempe and Tucson AZ, San Antonio, Austin, Dallas, Houston, Galveston and Beaumont TX, Michigan, Oklahoma, Colorado and Southern California. For press inquires contact PR(at)atrsonline(dot)com.