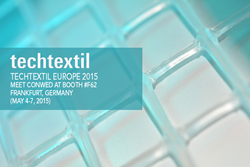 (PRWEB) April 28, 2015
Conwed, the leading plastic netting manufacturer in the world, will display its netting portfolio at Techtextil Europe 2015, in Frankfurt, Germany (Hall 3.1 - Booth# F62 - May 4-7, 2015). Organized annually in Germany, this event is a leading international trade fair for technical textiles and nonwovens. With over 1,300 exhibitors from 48 countries and around 27,500 visitors from 97 different nations, Techtextil Europe 2015 amounts to the world's central marketing and sourcing platform for users and manufacturers of technical textiles and nonwovens.
Conwed netting is an essential component in hundreds of industrial and consumer products in many different industries worldwide. From automotive, filtration and medical applications to hygiene, disposable and consumer products, manufacturers, OEMs and converters incorporate Conwed netting to achieve lightweight reinforcement and stretchability features. "Our netting brings key performance functionalities to many different products, and our ability to customize it to different chemical, performance and processing requirements allows customers to create truly distinctive products", said Ivan Soltero, Strategic Marketing Manager at Conwed.
Among the products highlighted at this exhibition, Conwed will display co-extrusion netting. Co-extrusion is a multi-layer extruded netting than can be subsequently oriented where different polymers can form different layers on the same netting configuration. It is a square netting construction and Conwed has the ability to build netting with A/B, A/B/A, and A/B/C layer combinations. "Netting is an ideal reinforcement and bonding element to create exceptional composites with film, paper, foil, foam, bubble wrap, nonwoven and other fabrics. It is lightweight yet very strong. It is an exceptional reinforcement material", said Soltero.
The processing flexibility that Conwed netting provides allows manufacturers, OEMs and converters to use different techniques to incorporate it with other substrates or materials. "We have customers creating composites through extrusion coating, extrusion lamination, thermal lamination, ultrasonic welding, wet and dry adhesive lamination and diverse nonwoven processes. Our R&D and engineering teams collaborate with our customers from the moment the concept is born to the commercialization stages. We test, fine-tune and test again until our customers find the best value for their products", said Soltero.
Conwed European Headquarters are based in Genk, Belgium and serve all netting inquiries coming from Europe, Asia, Africa and Australia. For a complete guide of how plastic netting is made and how it can be incorporated with other materials, visit the section Plastic Netting 101 at http://www.conwedplastics.com
About CONWED
Conwed is the leading plastic netting manufacturer in the world. Conwed manufactures extruded, oriented and knitted netting with unique customization capabilities. Headquartered in Minneapolis, Minnesota, Conwed has five manufacturing locations on two continents and a global distribution network.