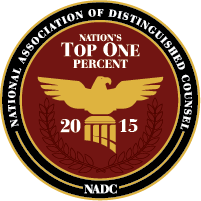 Baltimore, Maryland (PRWEB) April 29, 2015
Craig M. Kadish, of Kadish & Fastovsky, LLC, has been selected to the 2015 list as a member of the Nation's Top One Percent by the National Association of Distinguished Counsel. NADC is an organization dedicated to promoting the highest standards of legal excellence. Its mission is to objectively recognize the attorneys who elevate the standards of the Bar and provide a benchmark for other lawyers to emulate.
Attorney Craig M. Kadish has spent over 20 years defending individuals, businesses and others charged with criminal offenses in federal and state courts throughout Maryland. Mr. Kadish has been an instructor in both constitutional law and criminal trial practice and procedure. He has also been selected as one of the top attorneys in Maryland in the area of criminal law by his peers, and is rated a Super Lawyer by Baltimore Magazine and furthermore, has been nominated and elected to the Top 100 Criminal Trial Attorneys.
Members are thoroughly vetted by a research team, selected by a blue ribbon panel of attorneys with podium status from independently neutral organizations, and approved by a judicial review board as exhibiting virtue in the practice of law. Due to the incredible selectivity of the appointment process, only the top one percent of attorneys in the United States are awarded membership in NADC. This elite class of advocates consists of the finest leaders of the legal profession from across the nation.
About Kadish & Fastovky, LLC: The Law Offices of Kadish & Fastovksy, LLC handle all criminal charges, felony and misdemeanor, state and federal. The firm serves the greater Baltimore area, western Maryland and the entire Eastern Shore of Maryland.Mr. Kadish has been sought out as counsel for individuals charged with serious federal crimes in Maryland as well as other states from New York to North Carolina. Kadish & Fastovsky, LLC's clients include first-time and repeat offenders, professionals, politicians, physicians, blue collar workers, college students and citizens of other states and countries.
For further information, contact Miranda Salley at 301-922-2968 / Miranda(at)kffattorneys(dot)com. Visit us at http://www.kadishlawfirm.com or call 410-837-0020 to schedule your complimentary consultation.
###